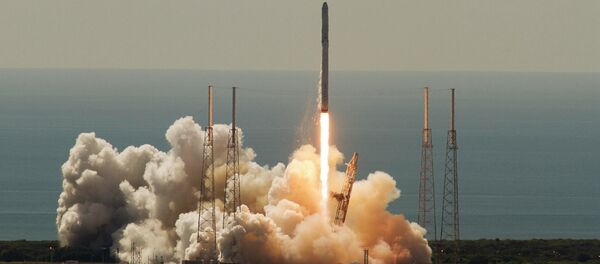 MOSCOW (Sputnik) – A new medium-class carrier rocket to be developed in Russia will be able to compete with the Falcon rocket manufactured by the US-based SpaceX company, Russia's RSC Energia space corporation said.
"RSC Energia proposes the development of a new medium-class launch vehicle for launches from Baikonur and Vostochny cosmodromes, as well as from the Sea Launch," the company's General Director Vladimir Solntsev said.
"The development of a preliminary design [of the rocket] is under way. The new launch vehicle will be well suited for launches from the Sea Launch, and, of course, it will be competitive with the US-made Falcon rocket," Solntsev added.
Falcon is a family of two-stage launch vehicles that use nine first-stage engines. The current Falcon 9 "Full Thrust" version can lift payloads of up to 22,800 kilograms (50,300 lb) to low Earth orbit, and up to 8,300 kilograms (18,300 lb) to geostationary transfer orbit, according to SpaceX.