WASHINGTON (Sputnik) — Trump is seeking to denuclearize North Korea by the means of enhanced economic sanctions and diplomatic measures, the statement reads.
"The president's approach aims to pressure North Korea into dismantling its nuclear, ballistic missile, and proliferation programs by tightening economic sanctions and pursuing diplomatic measures with our allies and regional partners," said the statement by Secretary of State Rex Tillerson, Secretary of Defense James Mattis, Director of National Intelligence Dan Coats.
Earlier it was reported that the Trump administration is considering putting North Korea back on the State Department's list of state sponsors of terrorism.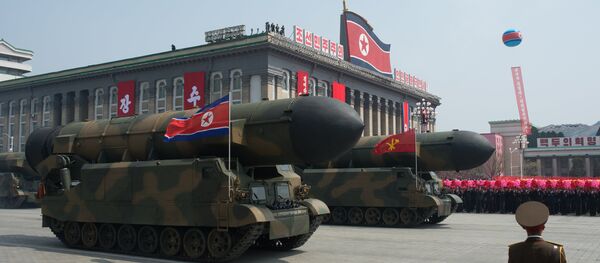 North Korea was removed from the list in 2008, during the administration of US President Bill Clinton, in exchange for concessions by North Korean leader Kim Jong-il — the father of Kim Jong-un — regarding the country's then-fledgling nuclear program.
The situation on the Korean peninsula aggravated since North Korea carried out a number of missile launches and nuclear tests in violation of UN Security Council resolutions.
On April 16, Pyongyang conducted a missile test, which was called unsuccessful by the South Korean defense officials.
On April 5, North Korea launched a ballistic missile from Sinpo, South Hamgyong province, in the direction of the Sea of Japan.
Never miss a story again — sign up to our Telegram channel and we'll keep you up to speed!