MOSCOW (Sputnik) — Moscow is concerned about the deployment of a US naval strike force in Northeast Asia amid growing tensions over North Korea's missile tests in the area, the Russian Foreign Ministry said Thursday.
"Of particular concern is the concentration of a US Navy strike group in the Northeast Asia region and Pyongyang's bellicose rhetoric…It is important to prevent the development of events under the crisis scenario, which is fraught with a slide to an open armed confrontation," spokeswoman Maria Zakharova said at a news briefing in Moscow.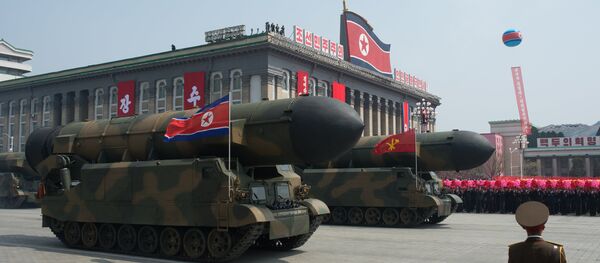 The situation on the Korean peninsula has deteriorated after Pyongyang carried out a number of missile launches and nuclear tests in violation of UN Security Council in the past year.
Washington earlier claimed it has sent the the Carl Vinson carrier strike group to the Western Pacific in light of North Korea's "reckless, irresponsible and destabilizing program of missile tests and pursuit of a nuclear weapons capability."
Zakharova stressed that any attempts by the US administration to apply pressure on Pyongyang through threats of the use of force were "unacceptable."
"I do not think it is necessary to be a great expert.. to realize that the military scenario of solving the situation on the Korean Peninsula will become a huge global disaster in all dimensions," she said.