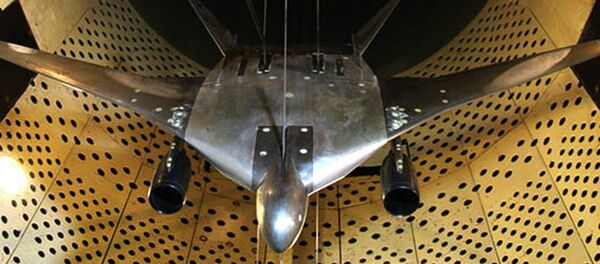 Speaking to journalists on Thursday, Russian Deputy Defense Minister Yury Borisov said that the maiden flight of Russia's next generation strategic bomber, known as the Advanced Long-Range Aviation Complex (PAK DA), may take place between 2025 and 2026,
RIA Novosti
reported.
According to him, the PAK DA is expected to start being mass produced between 2028 and 2029.
"We expect [the PAK DA's] maiden flight to take place in approximately 2025-2026, and the plane's mass production may start in 2028-2029," Borisov said during a visit to the Kazan aircraft plant,
In early March, some media outlets reported the creation of the first full-size model of the PAK DA, made of wood, as well as several mock-ups made of composite materials in line with the "flying wing" design. The information was never officially confirmed.
Earlier, Russian Aerospace Forces Commander Viktor Bondarev had said that the PAK DA bombers are expected to enter service in 2023.
The new aircraft is being designed to replace all three bombers currently in service with the Russian long-range aircraft, including the Tu-22M3 long-range bomber and the Tu-95 and Tu-160 (aka the White Swan) strategic bombers.
The Tu-160
© Photo : Ministry of defence of the Russian Federation
/
It was reported that the new fifth generation bomber will be able to carry a 30-ton weapons payload, including different variants of air-to-surface and air-to-air missiles as well as conventional and smart-guided bombs.
The bomber "is to be equipped with the latest domestically manufactured radio-electronic warfare equipment, unparalleled in terms of effectiveness," the designers revealed.
The Tu-22M
© Sputnik / Oleg Lastochkin
/
It is estimated that the new aircraft will have an operational range of about 12,000 kilometers and travel at subsonic speeds. The plane's airframe will consist of radar-absorbent material.
Last year, Russian Long-Range Aviation Commander Lieutenant-General Anatoly Zhiharev touted the PAK DA as "a fundamentally new plane with a new sighting and navigation system. According to him, "this plane will be equipped with the latest communication systems and electronic warfare, and will have little visibility to radar."
Bondarev, for his part, also touted the new bomber's stealth capabilities, adding that the PAK DA will carry AI-guided missiles with a range of up to 7,000 km.
"Such a missile can analyze the aerial and radio-radar situation and determine its direction, altitude and speed. We're already working on such missiles," Bondarev was quoted as saying by the Russian newspaper Rossiyskaya Gazeta.