The countdown has begun to the Terminal-High Altitude Area Defense (THAAD) anti-ballistic missile system becoming fully operational. Overnight on Wednesday, US forces transported the system's components to its proposed permanent base in Seonju County in South Korea. According to US military officials, the system will become operational 'within days.' South Korean officials have indicated that the system would be tested when deployment is complete.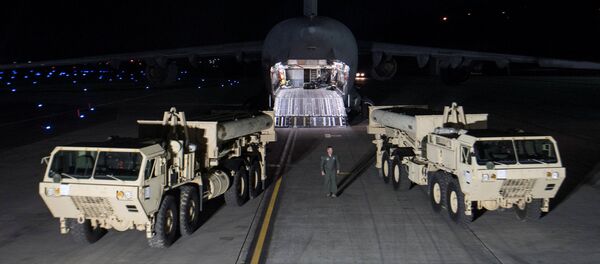 Seonju Country residents and activists throughout the country have been intensely protesting the system's deployment, saying that THAAD's radar systems will pose health risks to the residents of Seongju and the surrounding area, and
noting
that they feel the system is really aimed at China and Russia rather than North Korea. What concerned them most of all was that no effort whatsoever had been made to gain their consent.
The transportation of the missile defense system's components, conducted under the cover of night, was met by hundreds of Seongju residents, activists and members of religious organizations, who gathered in the town center of Soseong-ri, near the golf course where the system is to be deployed. 
Up to 8,000 police were dispatched to the area contain the protesters, with clashes and injuries reported. The military, meanwhile, blocked roads into the area to prevent any out-of-town protesters from joining in. Protesters complained that the police presence was so great that they felt as though they had returned to the times when South Korea was a dictatorship.
residents protest US starts moving THAAD missile defense to Seongju pic.twitter.com/YHivIydoDr https://t.co/YHivIydoDr https://t.co/BVyhqDfZLD

— PsyHun (@xoxJENUINExox) April 26, 2017
South Korean political observers say Seoul is trying to rush through the deployment of the system before presidential elections on May 9, thus ensuring that any future government will have a hard time suspending or canceling the deployment.
Kim Wonmyeong, a long-time Seongju resident and representative of the Won-Buddhist monks, who are engaged in the ongoing protests together with other civic groups, told Sputnik Korean in no uncertain terms that THAAD's deployment threatens catastrophic consequences not just for his community, but for Korea as a whole.
Amid local protests, more than 30 key components of THAAD arrived in the Seongju site on Wednesday morning https://t.co/PCV36AjbaY pic.twitter.com/EnV81rwgd7

— NK NEWS (@nknewsorg) April 27, 2017
Recalling the recent commemorations of the MV Sewol's sinking, Kim emphasized that "the deployment of missile defense is like putting all Koreans onto the deck of the sinking MV Sewol."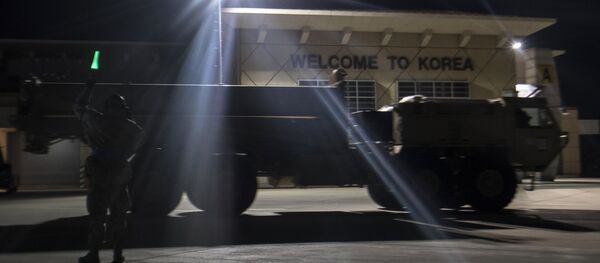 The activist stressed that the protesters will continue their demonstrations to try to Seoul and Washington not to deploy their missile defense system in their community. "We simply cannot allow this to happen," he said. "After our government provided the US with a place to deploy their THAAD system, they have come to understand just how we feel."
Unfortunately, Kim admitted that it remains to be seen whether South Koreans' objections are heard, or listened to. THAAD's deployment is part of a broader geopolitical game, the activist stressed, with residents of Seongju left to foot the bill. "China and the US are coming to some kind of agreement, and it turns out that the US plays with THAAD like a toy, as if preparing to attack North Korea." 
"Wouldn't it be better if Russia, which has stepped out against THAAD's deployment, exerted its own pressure?" Kim asked.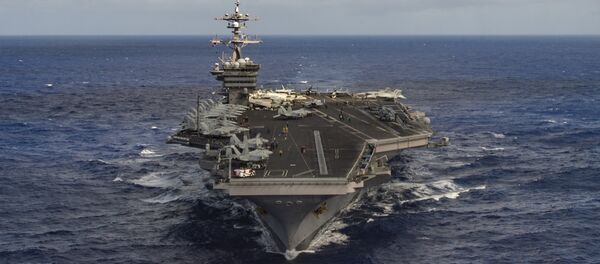 Residents of Seongju and Gimcheon remember that there have been two candidates in next month's election who opposes THAAD, Kim said. They are Sim Sang-jung from the Justice Party, and Lee Jae-myung, who lost the primaries of the liberal Minjoo Party. All other candidates, in his words, are either 'too busy politicking', or do not have the strength to solve this problem.
"I live in this place, feeling unease and helplessness every day, and I have no confidence that our politicians can save the people of our country from THAAD.  I watch as people run out of energy [to continue the protest]. But we have taken an oath. We will stand up for our holy land to the end," Kim emphasized.
Park Hee-ju, a member of the Gimncheon city council, and leader of the Emergency Committee to Counter THAAD, was detained by police for several hours during the clashes between police and protesters. "It was so embarrassing to see the smiling faces of those American bastards," Park said, speaking to South Korean media. "When I saw this American soldier who was driving one of the trailers flashing his teeth in a smile, I was enraged," he added.
US GIs grinned as riot police in South Korea's Seongju County used clubs on residents protesting THAAD deployment. https://t.co/7AhvyIOmXC pic.twitter.com/LthYCrNP10

— Tim Shorrock (@TimothyS) April 27, 2017
"We fought for eight months, and it only took five minutes for all 26 vehicles carrying the THAAD components to enter the site," he added, weeping. Nevertheless, Park remained defiant. "We need to work up our courage once again to drive THAAD out," he said, speaking to protesters.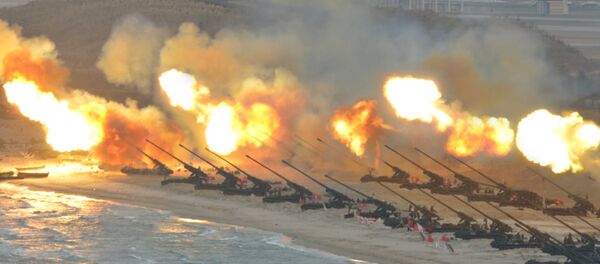 The protesters insist that the missile defense system's speedy deployment violates South Korean law, since there is no written agreement between Seoul and Washington, nor any documents showing the consent of local residents, nor any National Assembly discussions on the issue.
Locals say the snap deployment has soured their perceptions of South Korea's US allies. "Is the US really a friend when it deploys THAAD like a thief in the night during a presidential election? Or is South Korea a US colony?" asked Kim Chung-hwan, co-chair of the Seongju Committee.
Emphasizing that he believed the government should have put off the THAAD issue until after the election, Kim noted that he couldn't understand "why the Ministry of National Defense is leading the charge to sell out its own country."