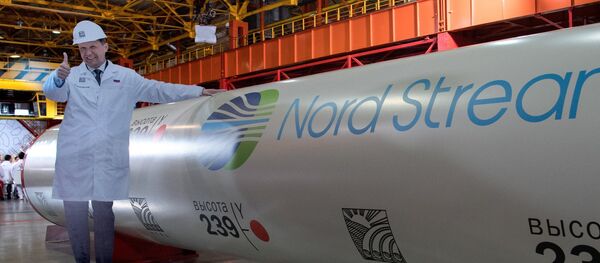 MOSCOW (Sputnik)
–
Russia hopes member states of the European Union pursue commercial instead of political logic on the Nord Stream 2 gas pipeline project, the head of the Russian Foreign Ministry's Second European Department old Sputnik.
"We hope that there will be purely commercial logic without a mix of certain political factors," Igor Neverov said on Friday.
Neverov stressed that Denmark's opposition to building the pipeline in its territorial waters has no legal or economic grounds.
The diplomat called the pipeline project beneficial for all parties and noted that the European Commission adopted an objective approach to the issue of the Nord Stream 2 project.
The Nord Stream 2 project's implementation requires that Denmark, along with Russia, Finland, Sweden, Denmark and Germany, grant permits for the pipeline construction. However, according to the Financial Times newspaper, Danish government was dissecting the ways of banning the project and wanted the possible the impact on foreign and security policy as well as on the environment to be taken into consideration while deciding whether to permit the project.
The launch of the Nord Stream 2 gas pipeline, which is designed to deliver an estimated 55 billion cubic meters of Russian natural gas a year to Germany across the Baltic Sea, bypassing Ukraine, is planned for 2018. Russia's energy giant Gazprom, Austrian energy company OMV, France's Engie, Royal Dutch Shell, Germany's Uniper and Wintershal are engaged in the project.
Never miss a story again — sign up to our Telegram channel and we'll keep you up to speed!