MOSCOW (Sputnik) — Western countries have lost over $100 billion over three years from the sanctions applied against Russia over the Ukrainian crisis, compared with up to $55 billion lost by Russia, UN Special Rapporteur on the negative impact of the unilateral coercive measures Idriss Jazairy said Friday.
"The sanctioning countries lose more income from sanctions than the targeted country over $100 against $50-$55 billion. The loss of income of Russia from the sanctions, a very rough rule of thumb to apply would be to say that the GDP of Russia has lost about 1 percent as a result of sanctions. Since the GDP of Russia is about $1.7 trillion, the GDP loss of income over three years is about between $50-$55 billion," Jazairy said during a press conference.
According to Jazairy, the cost in terms of income loss for source countries resulting from the sanctions is about $3.2 billion per month.
"If you apply it to three years you get about the loss of income for the sanctioning countries over $100 billion," he added.
Jazairy said he would ask in his upcoming report the Western countries and Moscow not to increase sanctions and countermeasures in the future.
"I will ask the sanctioning counties and the reciprocating country to make sure that they don't increase the sanctions or the countermeasures. They [should] pledge not to make a situation worse," Jazairy said.
Speaking to Sputnik, Jazairy added that Russia and Western states should try to resolve existing differences through talks rather than imposing news restricting measures.
"We appeal to the international community to try and solve political differences through negotiation rather than through the imposition of sanctions. My message would be do not increase or worsen the sanctions and gradually try to see how they can be alleviated in the interest of the innocent people," Jazairy said.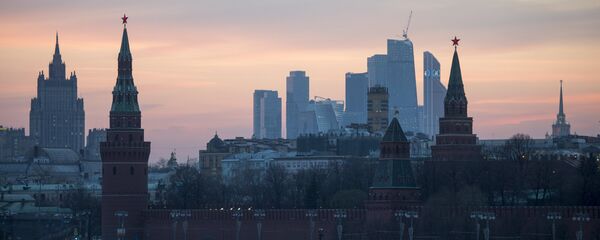 28 February 2017, 17:03 GMT
He expressed hope to be helpful in "building bridges between Russia and those countries that apply sanctions."
Jazairy is currently on a week-long visit to Russia at the invitation from the Russian Foreign Ministry. According to Jazairy, he "was greatly privileged to come" to Russia, and it was "especially interesting" for him to see how "a major advanced country" coped with the sanctions' impact.
Since 2014, relations between Russia and the European Union and the United States, deteriorated amid the crisis in Ukraine. Brussels, Washington and their allies introduced several rounds of sanctions against Russia on the pretext of its alleged involvement in the Ukrainian conflict, which Moscow has repeatedly denied. In response to the restrictive measures, Russia has imposed a food embargo on some products originating in countries that have targeted it with sanctions.