MOSCOW (Sputnik) — Euro is a "burden" for French economy, the country needs to be able to control its national currency, Le Pen said in her interview with the Parisien newspaper.
"We need to control the currency, to adjust it to the economy, because today the single currency is a burden," Le Pen said, adding that "euro is dead."
She stressed that she planned to gain the right to control the national currency, explaining that it would mean turning euro into the money that would only be used by "big companies engaged in international trade."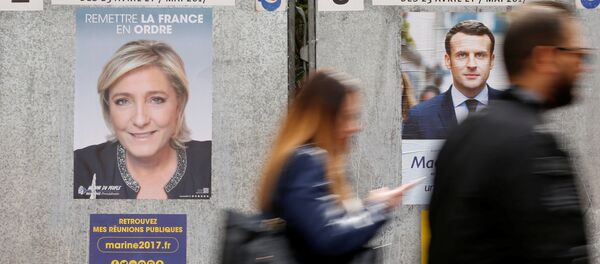 If elected, Le Pen plans to hold referendum on leaving the European Union in the first half of 2018 after negotiations with other EU member states.
On April 23, independent candidate Emmanuel Macron and Le Pen emerged as the two top contenders in the first round of the election, and are set to face each other in the run-off scheduled to be held on May 7. According to the latest surveys, Macron is expected to win in the second round with some 59 percent of votes, while Le Pen is expected to lose with 40 percent.