Vox Populi
Hundreds of people gathered outside the parliamentary headquarters in Podgorica to protest the idea of their country joining the alliance.
Meanwhile, opposition  MPs who have set up an alternative parliament in Murino, a village that was severely damaged during the 1999 NATO bombings of Federal Yugoslavia, warned that they would ignore  the results of Friday's vote and would call a referendum on the issue should they ever come to power.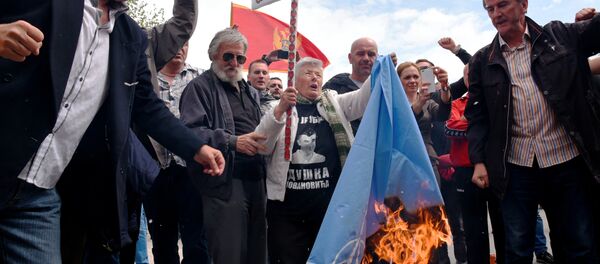 However, President Filip Vujanovic and Prime Minister Milo Djukanovic, both members of the ruling Democratic Party of Socialists (DPS) are blocking what they warn could come as a new challenge and security risk.
Vujanovic said that people had already made their choice by handing his Democratic Socialist Party a big lead over the opposition Democratic Front in last year's parliamentary elections.
The DPS won 40 percent of votes compared to just 21 percent garnered by the Democratic Front, which seeks closer ties with Russia and demands a nationwide referendum on the country's bid to join NATO.
According to preliminary polls, up to 70 percent of Montenegrins are against the country's integration with the North Atlantic Alliance.
In NATO's crosshairs
The people's fears are well justified because not everyone in Montenegro feels happy about the prospect of bringing the country's defense outlays in line with the NATO-required target of at least 2 percent of GDP.
This year, Montenegro plans to spend 50 million euros on the upkeep of its 2,000 strong army, which accounts for 1.65 percent of its gross domestic product.
NATO needs Montenegro to expand its foothold in the Balkans and, with neighboring Croatia and Albania already in, to enjoy unchallenged access to the Adriatic Sea.
"In the event of war, countries like Romania, Poland and Montenegro will be the first NATO countries to be sent into battle. Moreover, the elements of US missile shield now being deployed there could be used both for defense and attack," Moscow-based military expert Alexander Zhilin told RT.
"The governments of these countries are actually betraying their peoples' interests condemning them to imminent destruction if WW3 breaks out."
Zhilin added that NATO goal was to deny the Russian Navy access into the Mediterranean Sea and the Atlantic Ocean.
"With America's political clout undermined and anti-American sentiment in Montenegro being particularly strong, Washington has every reason to fear that Montenegro could deviate from its present pro-Western policy, which flies in the face of what its people really want," military analyst Vladimir Yazikov said in an interview with RT.
Add-on to EU
Even though there are many pro-Western minded people in Montenegro and the Balkans in general, what they really want is closer integration with the EU, rather than joining NATO, which is seen as an add-on to the EU.
Meanwhile a considerable part of the population looks to Russia, which its sees as a natural ally.
Between Moscow and Washington
Relations between Montenegro and Russia soured after the Balkan nation joined the anti-Russian sanctions in a bid to cozy up to the US.
"Russia is a great country. Montenegro cannot influence the course of global events. Russia needs to realize that Montenegro's desire to be part of the EU and NATO is by no means aimed against Russia," President Vujanovic said.
Last autumn, tens of thousands of protesters took to the streets across Montenegro demanding the resignation of Prime Minister Milo Djukanovic who has been in power since 1991.
The authorities were quick to blame Russia and Serbian nationalists for the disturbances, which it said were provoked by Russian Foreign Ministry statements.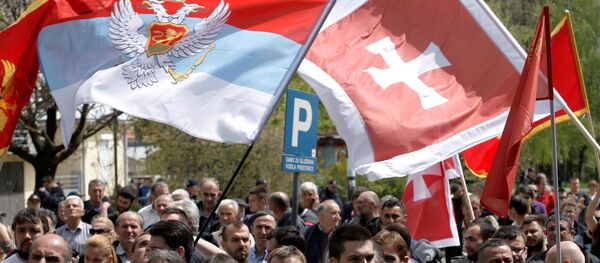 In February 2017, Special Prosecutor Milovoje Katnic said in televised remarks that Russia allegedly had a hand in the 2016 coup attempt in a bid to prevent Montenegro's joining NATO.
Russia denied the accusations as "totally baseless." It also warned about possible provocations against Russian nationals living in Montenegro and urged Russian tourists to abstain from visits to the country.
Parliament in crisis
Meanwhile, the parliamentary crisis in Montenegro continues with opposition MPs saying they will resume work only if the government calls snap elections for next year.
During last year's elections the opposition won 39 seats in the 81-strong legislature. If victorious in 2018, the opposition parties promise to put the issue of the country's NATO membership to a nationwide vote.
On April 26, the alternative parliament in Murino declared the results of last year's elections null and void as they were held in an atmosphere of strong pressure from the authorities who played up the issue Russia's purported role in the 2016 "coup attempt."
"The West is afraid of Russia's reaction, hence all these accusations, even though Russia never meddles in the domestic affairs of [the Balkan] states," Irina Guskova, the deputy head of the Center of Balkan Studies in Moscow, told RT.
Russia believes that Montenegro's accession to NATO will undermine stability in the Balkans and elsewhere in Europe.
"Reasons for Montenegro to enter the alliance are unclear. Is someone threatening it?" President Vladimir Putin said last June at the St. Petersburg International Economic Forum, also mentioning "the bloc's blatant disregard of our position."
Never miss a story again — sign up to our Telegram channel and we'll keep you up to speed!