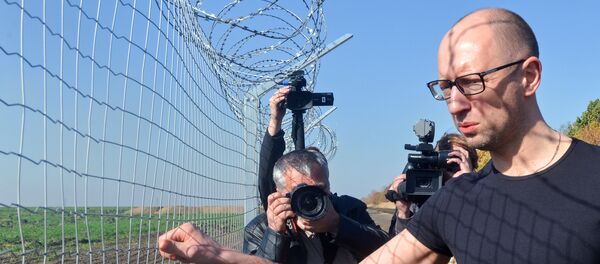 21 August 2016, 14:05 GMT
MOSCOW (Sputnik) — Petrenko added that the investigative committee intended to seek the conviction of Yatsenyuk in accordance with the Russian legislation, using all legal instruments of the international law.
"The committee has evidence that Ukraine's former Prime Minister Arseniy Yatsenyuk participated in at least two armed conflicts on the Minutka square in Grozny city on December 31, 1994 and on February, 1995, while he was also involved in torture and execution of captured Russian servicemen in the Oktyabrsky district of Grozny on January 7, 1995," the spokeswoman said.
In March, a court in Russia's southern Yessentuki city ordered the arrest in absentia of Yatsenyuk. Ukraine's justice and foreign ministries have opposed the move. On Friday, Russian Prosecutor General's Office sent a request to Interpol to put Yatsenyuk, who resigned from office in April 2016, on the international wanted list.
In 2015, the head of the Russian Investigative Committee, Alexander Bastrykin, said that Russia's investigators had information that Yatsenyuk was a member of several gangs, namely "Argo" and "Viking," fighting alongside Chechen militants against Russian troops between 1994 and 1995.