According to a post to the North Korean propaganda portal Uriminzokkiri, Pyongyang will destroy the underwater vessel stationed in the Korean peninsula waters if military threats toward the regime continue.
"The moment the USS Michigan tries to budge even a little, it will be doomed to face the miserable fate of becoming an underwater ghost without being able to come to the surface," the post read, according to the Korea Times.
"Whether it's a nuclear aircraft carrier or a nuclear submarine, they will be turned into a mass of scrap metal in front of our invincible military power centered on the self-defense nuclear deterrence."
The Ohio-class nuclear submarine USS Michigan, armed with cruise missiles, sailed into South Korea's port of Busan earlier this week, followed by the deployment of the nuclear-powered aircraft carrier USS Carl Vinson, for joint exercises with ships from the Maritime self-defense force of Japan near the Korean Peninsula.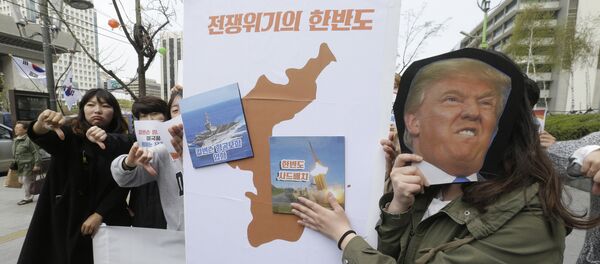 The situation on the peninsula has become tense in recent months, as North Korea conducted a series of missile launches and nuclear tests.
The most recent threat followed a failed missile launch early Saturday from a site north of Pyongyang. The South Korean military said the missile exploded after flying only 71 kilometers, still over North Korean territory.
Pyongyang has previously stated its readiness to launch a preemptive strike against US military facilities in the East Asian region if Washington continues to politically, economically, or militarily intimidate Pyongyang.