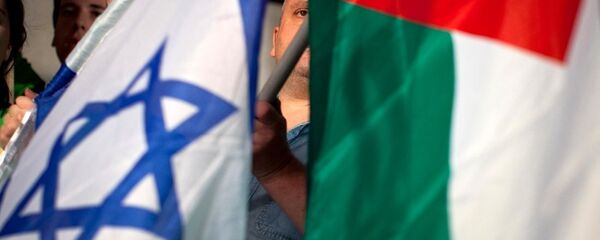 TEL AVIV (Sputnik) — Israel will admit the transformation of the Hamas movement implying a softer stance on the Jewish state only when the organization stops its aggressive actions and directs its resources for creation of the civil infrastructure in the Gaza Strip, the office of the Israeli government said in a statement on Monday.
Earlier on Monday, Hamas unveiled at a conference in the Qatari capital of Doha its new program, which does not include direct pleas for Israel's destruction and distances the movement from the Muslim Brotherhood, a Sunni Islamist organization, outlawed in Russia and a number of other states.
"On the day when Hamas stops digging tunnels and directs its resources for creation of the civil infrastructure and also when it stops to train killing of Israeli people, there will be a real transformation," the Israeli government said in the statement.
The statement specified that currently the movement has not implemented any of these steps and, on the contrary, continues to "invest all its resources not only in preparation for war with Israel, but also in bringing up Gaza's children in the spirit of elimination of Israel."
Hamas is an Islamist political and militant group, classified by Israel as a terrorist movement, which has been the governing authority of the Gaza Strip since 2007. The group has been seeking the creation and recognition of an independent state of Palestine on the territories of the Gaza Strip and the West Bank, including East Jerusalem, and wants Israel's withdrawal from these territories occupied after the 1967 war.