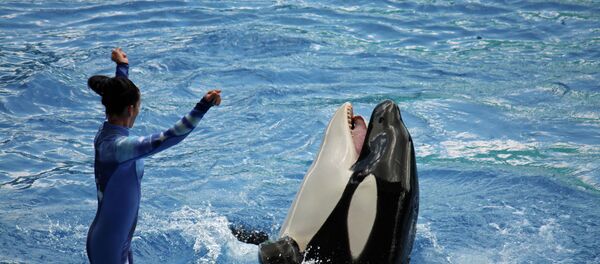 6 January 2017, 21:30 GMT
The first attack occurred on April 20 and involved a group of 33 orcas, also known as "killer whales."
The latest carnage involved a family of nine orcas, led by an older matriarch, who managed to separate a gray whale calf from its mother in only about 20 minutes, in front of shocked spectators on a tour boat operated by Monterey Bay Whale Watch.
Normally, an attack on a juvenile gray whale takes about two hours, as the mother whale typically fights back, trying to fend off the attackers with its fluke — quite a potent weapon, considering its mass and power.
"It's kind of exciting to see this group and how they've gotten really good at hunting," says Nancy Black, a local marine biologist and co-owner of Monterey Bay Whale Watch.
According to scientists, the whale calves and their mothers are migrating up the California coast from Mexico, but this year the migration happened a few weeks later than usual, and a lot of hungry killer whales were waiting.
"Usually the killer whales come in and out. They aren't here every single day," Black told reporters. "We see them more often in April than May by far, but they just seem to be hanging around and waiting for more gray whales to come through."
The maritime killers also used the opportunity to teach their children how to hunt.
"They (killer whales) learn different methods of hunting from different areas so it's passed on through the generations," Black explained.
"And this particular group… is very good at it," she added, referring to the family of 9 orcas, dubbed the Emma's group.
According to Black, orcas share their prey with the rest of the group, including members that didn't take part in the hunt. Normally, an adult killer whale must eat about 150 kg of meat a day. Orcas are opportunistic carnivores and will attack sea lions, dolphins and even great white sharks.