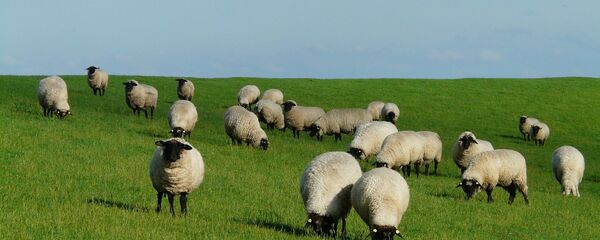 26 January 2017, 09:51 GMT
Aslak Ante Sara from Norway's northernmost Finnmark County proved for everyone how romantic a shepherd can get by making a giant heart formation for his dear wife Rávdná using hundreds of reindeer. Inside the heart, a letter R for his beloved's name can be seen, as filmed from above using a drone.
This touching scene, which former producer for Norwegian national broadcaster NRK Brita Åse Norlemann dubbed "the most romantic TV moment," was watched by hundreds of thousands of Norwegians, on the NRK show following the progress of migratory reindeer.
The "reindeer show" was part of the new "slow TV" genre gaining a foothold in Scandinavia. Previous "slow TV" shows included such riveting broadcasts as that of a train journey from Bergen to Oslo or a 134-hour voyage of a Hurtigruten ferry making its way through the fjords. The most recent addition to this bizarre collection was a weeklong minute-by-minute video recordings of reindeer migrating from their winter home to summer grazing areas, which was made using cameras mounted on drones, snowmobiles, and reindeer's antlers.
Over a million viewers had watched the hundreds of reindeer moving through the snowy landscape before the show had come to an abrupt end. The show was put on ice after the animals stopped moving, out of consideration for the working conditions of the crew, NRK reported. Previous days' episodes of the slow TV show can still be enjoyed on NRK's website. Remarkably, the foreign public seemed to have liked the idea of "slow TV" as well, as up to 30 percent of viewers of NRK's online broadcasts were from abroad.
"I believe it's awesome that so many have come to watch it. We were a bit unsure if this would break through, but now we realize that people are interested. Many people think it is some sort of therapy for the soul to follow the animals and see the scenery," project manager Per Inge Åsen told the Norwegian daily Dagbladet.
Never miss a story again — sign up to our Telegram channel and we'll keep you up to speed!