GENEVA (Sputnik) — Earlier in the day, Russia's envoy to the UN Geneva Office Alexei Borodavkin told Sputnik that a joint humanitarian convoy of the UN, the International Committee of the Red Cross and the Syrian Arab Red Crescent of 51 trucks, supported by the Russian military, had delivered aid to the Syrian East Ghouta.
"The delivery of humanitarian aid, with the active participation and extensive assistance from the Russian Federation, to the region held by the armed groups, on the eve of the international meeting on Syria in Astana, convincingly demonstrates the sincere interest of Russia and the Syrian Government in the success of the Astana talks, and the readiness for even unilateral measures to restore confidence," the source said.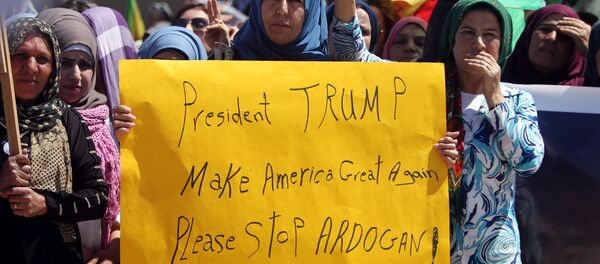 The source added that the Russian diplomats and military from the very beginning of the preparation of the humanitarian operation had been working out every detail of the delivery together with their colleagues from the UN.
Earlier in the day, the fourth round of the Astana talks began in the Kazakh capital. The first three rounds of talks on the Syrian settlement brokered by Russia, Turkey and Iran, were held in Astana on January 23-24, February 15-16 and March 14-15. During the talks, the participants agreed to set up a ceasefire monitoring group, among other points.