New laws intended to severely punish those exercising their constitutional right to disagree with existing legislation and policy will now see possible fines of up to $1 million in the US state of Oklahoma, after legislators rushed what they termed "emergency" anti-protest laws into effect.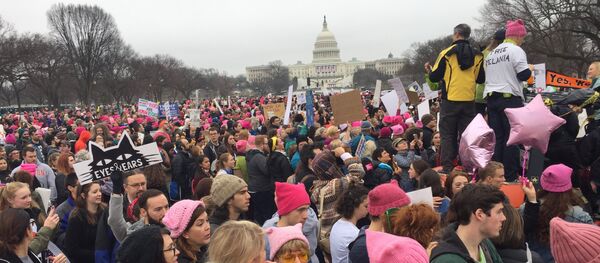 The new laws allow for increased fines on those found guilty in Oklahoma of engaging in protest actions that result in the damage of infrastructure, especially oil and gas equipment. They also include a new wrinkle, in which those who are found to be supporting, or "conspiring" (in the terms of the bill) with the protest can be fined up to one hundred times the amount levied on the guilty party.
Under the new statutes, fines allow for up to $10,000 to be levied against anyone found guilty of simply intending to destroy infrastructure. Up to $100,000 can be fined if protestors actually do real damage. The real kicker, however, is a $1 million fine that can brought against any person or organization found to be supporting an activist found guilty, including, ostensibly, human rights groups or medical, legal and logistical assistance at the protest site.
The laws are seen to be in direct correlation with increased attempts across America to stymie any dissent against new petrochemical infrastructure, including pipelines and fracking wells.
Considered to be a major oil and gas transfer hub for much of the United States, Oklahoma has a long history of its state government acting as a front for oil companies.
Calling itself the oil "Pipeline Crossroads of the World," the town of Cushing, and surrounding regions have seen a striking rise in earthquakes amid the fracking boom, due to the pumping of a toxic mix of wastewater and chemicals directly into the ground, according to The Intercept.
The Oklahoma Oil and Gas Association is a vocal supporter of the new legislation.
Many are suspicious of the loose wording of the new Oklahoma anti-protest laws, however. Doug Parr, a lawyer who has represented several environmental activists in Oklahoma, told The Intercept that the statute's claims are too broad.
"Say they lock themselves to a piece of construction equipment," Parr said, "and a claim can be made that there were damages from that trespass. Does this statute create a civil action for a pipeline company to then go after a person or organization that posted bond or helped pay for a lawyer for that civil disobedience?"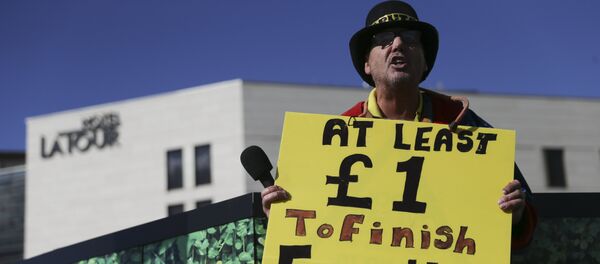 The attorney observed that those organizing peaceful actions of civil disobedience can now be heavily penalized if any attendee chooses to take on a solo act, such as spray-painting a message on a wall.
"Suppose an organization decides they want to support a perfectly legal, no civil disobedience, action," Parr suggested. "Somebody in that crowd, who has come to the protest at the request of that organization, then jumps the fence, and runs in there, and spray-paints on a storage tank, 'This equipment causes earthquakes. Shut it down.'… These statutes could be used to attack that organization and impose financial liability on them."
The Sierra Club's Oklahoma head, Johnson Bridgwater, pointed out the possibly illegal ramifications of the new laws, stating, "We don't necessarily know everyone who's attending the events. There is a strong and real fear that this could be used as an attempt to crush a group or a chapter of Sierra Club unfairly."
Common Dreams has identified 19 new anti-protest bills in the US, as of April 2.
Similar legislation in Colorado, North Dakota, and South Dakota is directly aimed at actions of civil disobedience that seek to stop or limit the expansion of petrochemical operations. New laws in Minnesota and other states are seen to be responding to previous protest actions blocking roads and highways after white police killed unarmed black men and women in US cities.
Referring to an earlier high-profile action of civil disobedience seeking to shut down the Dakota Access oil pipeline, the Sierra Club's Bridgwater observed, "We see all of these bills as nothing more than corporate America being fearful of how successful the Standing Rock protests were."