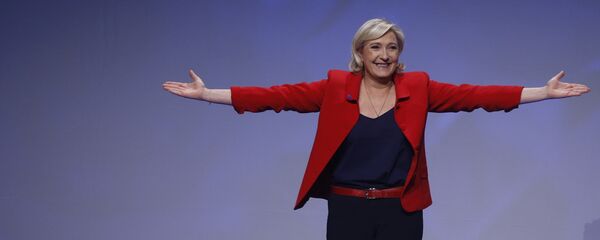 PARIS (Sputnik) — Earlier in the day, French media reported that Marechal-Le Pen intended to resign as FN party's southeastern region head and would not seek re-election as the member of the national parliament.
"You know my story, you know I have been in this political world all my life. At the age of 27, it is time for me to leave it for some time. I am not giving up for ever on this political battle," Marechal-Le Pen said in a letter, obtained by Le Dauphine Libere newspaper.
She stressed that her decision to leave was triggered by a desire to spend more time with her family.
"I missed my little girl in her early years, which are very precious. She also missed me terribly. It is essential that I can devote more time to her… On the other hand, I have never given up the idea of quitting one day or another the world of politics for an experience in civil life. I love the world of business, I have never stopped defending it during my term and I aspire today to work in this sphere," Marechal-Le Pen said in the letter.
Marechal-Le Pen became the youngest member of the National Assembly, a lower house of the French parliament, at the time of election in 2012, when she was 22 years old. She is also one of the two representatives of the FN party in French parliament.
The French legislative elections are expected to take place on June 11 and June 18.