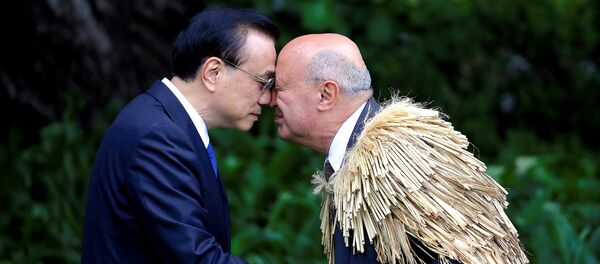 The One Belt One Road initiative also known as the New Silk Road is a major infrastructure project proposed in 2013 by Chinese President Xi Jinping to economically connect China with the rest of Eurasia.
The One Belt One Road includes several transit corridors from western China to Europe, which can be divided into three groups – the Northern Route, the Sea Route and the Southern Route.
During the three years since the Silk Road strategy was announced, Beijing has been actively supported by more than 100 countries and international organizations. In particular, more than 40 countries and organizations have signed an agreement with China on cooperation. The amount of investment by Chinese enterprises into the countries along the route has already exceeded $50 billion.
© AP Photo / GREG BAKER
Traders from across South and Central Asia flock to once-isolated Urumqi, now a city of 4 million people, in China's northwest corner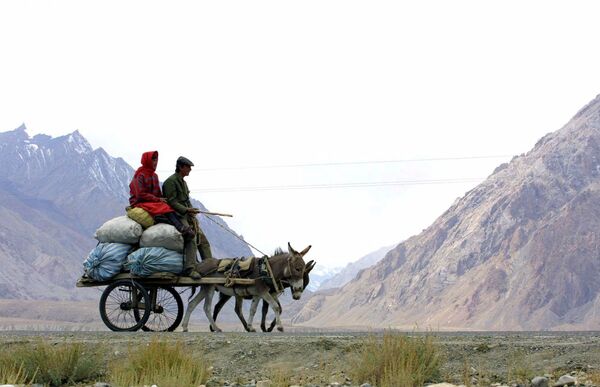 Traders from across South and Central Asia flock to once-isolated Urumqi, now a city of 4 million people, in China's northwest corner
Xinjiang local officials and politicians insist that the region should become the key point of the New Silk Road. One of the main advantages of the region is its geographical position, in particular the fact that it borders eight countries, including Russia, Kazakhstan, Pakistan and India.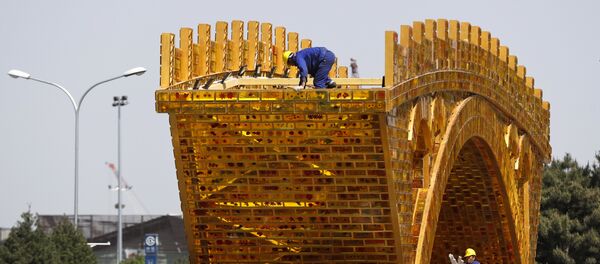 Xinjiang's logistics infrastructure includes 15 so-called land ports and two airports. In addition, Xinjiang has abundant oil and gas reserves and currently is China's largest natural gas producing region.
"Xinjiang is a strategic border region in northwest China and the key region in the development strategy in western China. It is an important window to the West for China. It is also the country's energy base and the main part of the Silk Road economic belt," said Zhang Shijun, director of the Xinjiang Development and Reform Commission.
Urumqi is the capital and largest city of the Xinjiang autonomous region. Currently, the city looks like one large construction site, including new residential houses, office building, a subway and roads. It is worth remarking that multistoried buildings and hard-surfaced roads were built in Urumqi not long ago. The first eight-floor building was constructed in the late-1950s, to commemorate the 10th anniversary of the establishment of the People's Republic of China.
Currently, the Chinese government is actively investing in the region's development. Over the past seven years, Beijing invested nearly $83 billion into Xinjiang, including in residential buildings, roads, jobs and education.
In 2016, Xinjiang's GDP grew 7.6 percent year-on-year, to $138.4 billion. GDP per capita in the region reached $5,800, 73.3 percent of the average in China.

Because of its location, Xinjiang is one of China's trade centers. In 2016, its trading volume reached nearly $18 billion, 8.7 percent lower than in 2015. Xinjiang's main trade partners are Kazakhstan, Kyrgyzstan, Tajikistan and Russia. The region has 162 economic and trade partners. Its biggest export categories are electrical goods, agricultural products, textile machinery, textiles and garments.
Meanwhile, the service sector leads Xinjiang's economy, accounting for nearly 50 percent of regional incomes. Industrial manufacturing accounted for 37.3 percent of GDP in 2016. Xinjiang has 30 percent of China's onshore oil reserves and 34 percent of its natural gas reserves. China produces 40 percent of coal in Xinjiang.
Agriculture provides 20 percent of Xinjiang's incomes. The region is known for its fruits and produce, including grapes, melons, pears and wines.
Never miss a story again — sign up to our Telegram channel and we'll keep you up to speed!