MOSCOW (Sputnik) — On Tuesday, following the US Defense Department's announcement that President Donald Trump approved a plan to arm YPG, the Syrian Kurdish PYD party's affiliate, fighting Daesh terrorists in Syria, US Secretary of Defense James Mattis ensured his Turkish counterpart Fikri Isik over phone of the US commitment to prevent security risks for Turkey.
"Those weapons could be used against Turkey and against Turkish interests. I don't think any guarantee, any verbal guarantee which would guarantee Turkish security concerns will have any meaning in practicality after arming a group, which is hostile to Turkey and Turkish interests … I think this will not add security to the region, but more tension, more escalation, more rift and more haggling in the region," Yilmaz said.
Yilmaz stressed that the CHP considers the US decision to arm YPG militia unacceptable because it would mean providing arms to PYD, viewed by Ankara as the Syrian extension of the outlawed Kurdistan Workers Party (PKK), and will likely cause serious repercussions.
"Trump's decision to arm PYD, not Syrian Kurds, with a reason to support its advance on Raqqa for us is unacceptable because PYD is an offshoot of PKK in Syria. So this will have great grave consequences after liberation of Raqqa," Yilmaz added.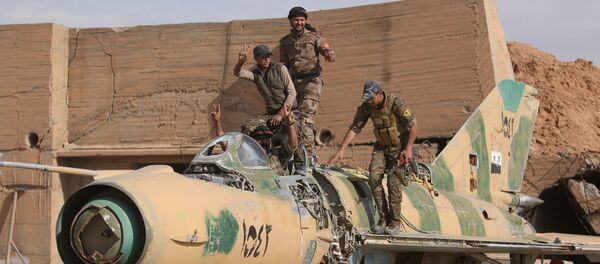 According to Yilmaz, arming the PYD is not in the interest of the United States in the long term as it would escalate tensions in the Middle East.
Turkish President Recep Tayyip Erdogan is expected to visit the United States to hold a meeting with Trump on May, 16. The two leaders will discuss the particulars of the situation in Syria, Iraq and the larger fight against terrorism.
Turkey strongly opposes any plan that would see Kurdish fighters taking over Raqqa as they believe that the PYD, prominent in Rojava, to be affiliated with the PKK, which is designated as a terrorist group in Turkey.
In November 2016, the Syrian Democratic Forces (SDF), which predominately consists of Kurdish fighters, but also includes members of the Syrian Arab Coalition, launched an operation called the Rage of Euphrates in order to seize control over Syrian Raqqa, the de facto Daesh capital, and are now starting the fourth stage of the campaign aimed at liberating the rural areas of Raqqa province from terrorists.