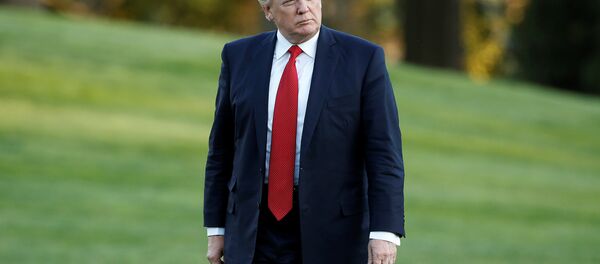 A recent meeting between US President Donald Trump and Russian Foreign Minister Sergei Lavrov sparked intense speculations in the US media as apparently only the Russian side has published the protocol photos made during the event, while no US reporters were allowed into the meeting.
The media hype was further exacerbated by the fact that less than a day prior to this meet-up, Trump fired FBI Director James Comey, who was conducting an investigation into alleged Russian involvement into the US presidential election.
Russian Foreign Ministry spokeswoman Maria Zakharova explained that the meeting's format was set up by its host, the White House.
"There were exactly as many photographers at the meeting as Washington permitted," she said, pointing out that US photo correspondents did attend the event.
Zakharova added that from the Russian side, the meeting was attended by a TASS news agency photo correspondent who was acting as Lavrov's personal photographer during the latter's trip to the US, and that all pictures he shot during the meeting were made freely available on the Russian Foreign Ministry's official website and via social media.
"Therefore, to claim that Moscow is once again responsible for a conspiracy in the United States… I believe that in this situation everyone understands that it's real hysteria in the US media. It can be described as an intellectual agony," she surmised.
Zakharova also remarked that the US media agencies weren't interested in Lavrov's visit but rather focused their attention on Russia's alleged meddling in the 2016 US presidential election and the firing of FBI Director James Comey, even though it is "absurd" to ask a Russian minister about personnel decisions made in another country.