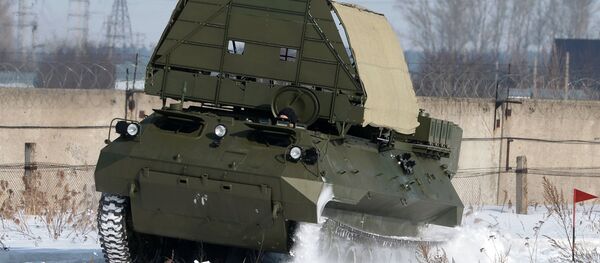 19 January 2016, 05:02 GMT
The production of military equipment related to the Russian electronic warfare systems will be increased by about 30 percent in the near future, according to Vladimir Mikheev, spokesman for Russia's Radio-Electronic Technologies Concern (KRET).
He stressed that the production growth could be achieved thanks to, in particular, the reorganization of the concern.
In 2016, KRET companies produced electronic warfare equipment worth 26.7 billion rubles (about $455 million), for the state defense order pertaining to the electronic warfare systems. 
KRET plants manufactured sophisticated electronic warfare systems including the Krasuha-S4, the Rtut-BM, the Rychag-AV, the Vitebsk and the Khibiny-M individual defense complexes. Part of the equipment was delivered to the troops ahead of schedule.
Last year, KRET's first deputy head Igor Nasenkov said that a greater number of Russian military jets, including Su-34 strike fighters, will be equipped with sophisticated Khibiny electronic countermeasures (ECM) systems in the immediate future.
The Khibiny is a small torpedo-shaped container which is mounted on the wingtips of aircraft and increases the survival rate of the planes by 25-30 percent. Notably, these systems were installed on Russia's Su-34 bombers and Su-30SM fighter jets which assisted their devastating attacks on Daesh terrorists in Syria.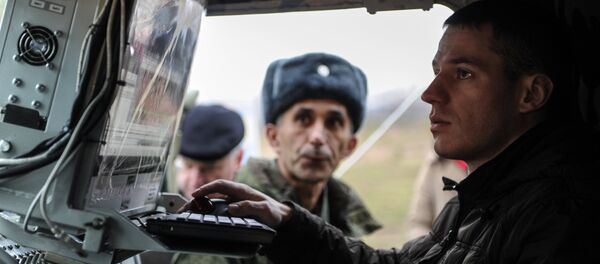 14 November 2016, 14:10 GMT
Also being used in Syria is the broadband multifunctional jamming station Krasukha-4, which is based on a BAZ-6910-022 four-axle-chassis.
The system has a range of 300 kilometers and is designed to counter airborne early warning and control systems and other airborne radar arrays.
The Krasukha-4's range allows it to effectively disrupt low Earth orbit satellites and cause permanent damage to targeted radio-electronic devices. Ground-based radars are also a viable target for the Krasukha-4 system.
In an interview with Sputnik, Russian military expert Viktor Murakhovsky specifically pointed to the completion of "state tests of a whole family of new electronic warfare systems and equipment for Russia's Aerospace Forces and the Navy, as well as the Ground and the Airborne Forces."
"All these systems are completely ready for factory production," Murakhovsky said, referring to a production growth of the CRET companies involved in these systems' development and creation.
According to him, the current and prospective Russian electronic warfare systems are capable of resolving a wide range of tasks, right down to intercepting the control of an enemy unmanned aerial vehicle.
"In my opinion, further development of electronic warfare systems will remain a priority task of the Russian defense industry in the next eight years," Murakhovsky said.
He also touted the unique Russian-made computerized control unit of the electronic warfare systems.
© Sputnik / Dmitriy Vinogradov
 / Go to the mediabank
The Su-34 lands at Latakia airport, Syria. File photo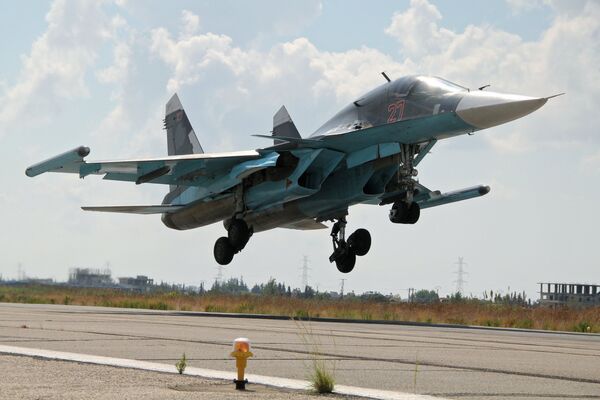 The Su-34 lands at Latakia airport, Syria. File photo
© Sputnik / Dmitriy Vinogradov
/
"Human participation is minimal because an operator only needs to choose one of several options for action against a specific goal, offered by a computer. It greatly reduces the system's response time to a particular threat," he added.
Since the beginning of the Russian military operation in Syria, mainstream media and even some top US military officials have repeatedly called the electronic warfare systems one of the main trump cards of the modern Russian Armed Forces.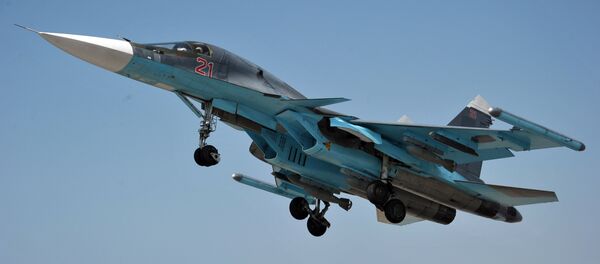 The commander of the US Army in Europe, Lieutenant-General Ben Hodges, described the achievements of Russian manufacturers in this field as "mind-blowing."
In this vein, experts say that sophisticated Russian electronic warfare systems may have an extremely serious impact on combat capability of NATO armies.
No wonder given that during combat missions, these armies rely on satellite communications and navigation, complex systems of radio-technical and electronic reconnaissance, as well as computerized  control systems for troops and other military high technologies.
Never miss a story again — sign up to our Telegram channel and we'll keep you up to speed!