Erdogan, flush with new executive powers following a recent referendum in the country granting him expanded authority, will arrive in Washington on May 16 to meet with embattled US President Donald Trump, and arming the Kurds will be at the top of the agenda.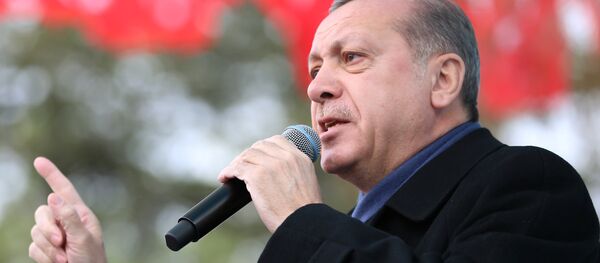 Erdogan wants Trump do an about-face on providing weapons to a highly disciplined group of Kurdish fighters, seen by Washington as integral to assisting the US-led coalition in fighting Daesh in Syria and Iraq.
"This will be the dominant issue in the meeting," according to James Jeffrey, a former US ambassador to Turkey, cited by The Hill.
The Kurdish fighters, known as YPG, are considered by Erdogan and his administration to be terrorists, due primarily to the group's refutation of the Turkish president's increasingly authoritarian rule, and the Kurds' own desire to create an autonomous state.
"The Turks see the presence of a YPG statelet in the north of Syria that has been given one way or another support or legitimacy by the United States as a threat," Jeffrey added.
Placing the defeat of Daesh before all other foreign policy concerns in the region, Trump and the Pentagon have now opted to give weapons to the YPG, and Erdogan, on a sudden visit to plead with Trump to reverse the order, may well have a tough time making a convincing argument.
As reported by The Hill, Senate Foreign Relations Committee member Ben Cardin (D-MD), claimed that there are "no other options" than to ally with the Kurds and provide them with cutting-edge US weaponry, as they are "our most effective fighters."
Cardin also claimed that Turkey is "very important to us in our campaign [against Daesh]."
He cautioned, however, that Erdogan and his administration have "done things that made our mission more difficult," referring to a recent widespread crackdown on human rights in Turkey in the wake of a failed coup, as well as Washington's refusal to immediately extradite a former Erdogan political ally accused of staging the upheaval.
But many foreign policy experts see the arming of the YPG by the US as a done deal.
"This story was written in 2015," said Aaron Stein, a senior fellow at the Atlantic Council's Rafik Hariri Center for the Middle East, according to The Hill.
"The US should not have intervened in Syria to begin with," Stein affirmed, "but this is a natural outcome of that intervention."