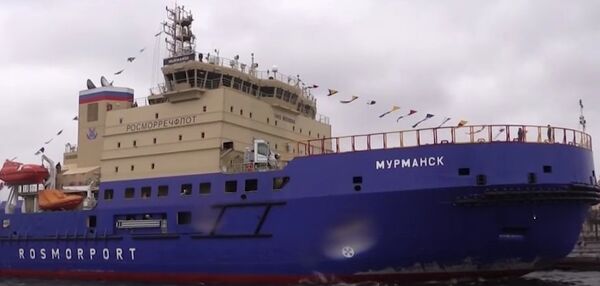 BEIJING (Sputnik) — Russia's Atomflot state enterprise planned to commence the construction of the icebreaker by 2023.
Earlier in April, Russia's Ministry of Economic Development suggested to allocate 80 billion rubles ($1.4 billion) less for the icebreaker construction.
"We have a plan for assembling an icebreaker fleet, both nuclear-powered and with other modern engines, and it will continue, it can stretch over time," Putin told reporters answering the question if the icebreaker would be financed.
The president added that the delay may take place due to many reasons, including the lack of budgetary funding.
The Lider icebreaker is expected to have an engine of 110 megawatts and would be capable of cutting through ice up to 4.5 meters (14.8 feet) deep. The icebreaker is planned to have a displacement of 55,600 tonnes, a length of 200 meters (over 650 feet) and a width of 40 meters.