In a sign of the importance he places on the Paris-Berlin axis, Macron traveled to Berlin to meet Merkel in the first foreign visit since his inauguration, May 14, just hours after dropping a bombshell in Paris by announcing the Republican Edouard Philippe as his prime minister. Macron was finance minister in the previous Socialists Government before resigning to set up his own En Marche centrist party.
In a press conference after their meeting, Macron called for a "historic reconstruction" of Europe in order to counter the surge of populism, after defeating French nationalist leader Marine Le Pen in the second round of the French presidential election.
"There is a common understanding that we can't just focus on Britain leaving the EU but that, first and foremost, we have to think about how we can deepen and crisis-proof the European Union, and especially the eurozone," Merkel said at a joint press conference, after talks with Macron.
Merkel made clear that she was prepared to be open to fundamental reforms and treaty changes. "The whole world is changing, she said, while Macron said: "There are no taboos for us here."
​[Twitter: "Very constructive exchanges to engage our joint work with Chancellor Angela Merkel".]
Strong Relationship
Marking the historic closeness of Franco-German relations, Macron said the countries would work constructively to deliver a stronger EU.
"Our relationship needs even more confidence and concrete results. I will be an open, direct and constructive partner," Macron said.
Merkel will be buoyed by his remarks as she basks in the glory of winning three consecutive regional elections, in Schleswig-Holstein, Saarland and the crucial state of North Rhine-Westphalia — which is the most populous state of Germany and includes Dusseldorf, Bonn, Cologne, Dortmund, and Essen.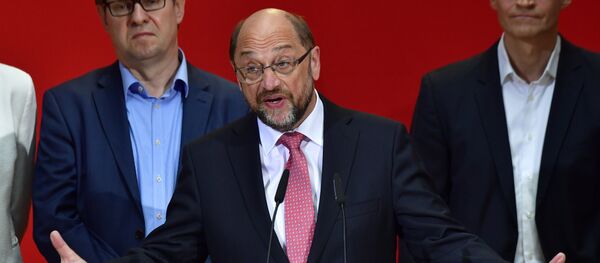 However, the message from German voters is mixed. She won over her coalition partner, the Social Democratic Party of Germany (SPD), led by the former President of the European Parliament, who is staunchly pro-EU and federalist. Some analysts are warning that his defeats mark a backlash against the Brussels machine.
Merkel's declaration that she is open to major changes in the union is a sign that she is aware of the rise in populism — especially the right-wing Alternative for German Party — and the need for a shake-up of her beloved EU. However, her comment that Brexit was not priority may lead to frosty relations between Berlin and London.