Mere hours after President Moon stated his intention to reopen negotiations with the People's Democratic Republic of North Korea (DPRK), the leader tempered his suggestion by asserting that an armed conflict with his northern neighbor was probable.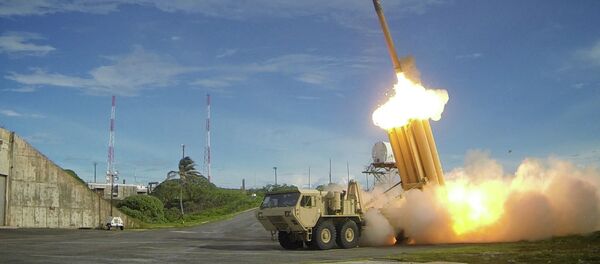 "The reality is that there is a high possibility of a military conflict at the NLL [Northern Limit Line] and military demarcation line," Moon said, cited by Reuters.
Moon's remarks follow statements from Pyongyang officials asserting a continuation of their defiance of the United Nations Security Council ban on nuclear and ballistic missile weapons testing, and the concurrent deployment of a powerful new US-built anti-missile system on South Korean territory.
Designed to quickly identify, target and destroy incoming supersonic missiles, the installation of the US-built Terminal High Altitude Area Defense (THAAD) missile system has angered not only the DPRK, but Russia and China as well.
But Washington has been slow to network THAAD with Seoul's existing missile defense network, and Sunday's launch by Pyongyang saw key data acquired by the US system withheld from South Korea.
"Currently, [Seoul] is unable to have real-time access to the detection data of the THAAD radar because the system […] is still under construction," according to an anonymous defense source, cited by Korea Times.
Contacted by word of mouth over a telephone link, Seoul only learned basic information about Pyongyang's Sunday launch, without being provided key data points, including the speed of descent of the DPRK missile and the shape of the missile's warhead.
At somewhere between Mach 15 (11,000 mph) and Mach 24 (18,000 mph), the DPRK Hwasong-12 missile fell short of the minimum Mach 24 descent speed of an intercontinental ballistic missile (ICBM), according to the source.
Although the data link between THAAD and South Korea's existing Green Pine missile defense network has yet to be established, it is expected to be completed late this year, according to Yonhap.
THAAD, deeply unpopular with South Korean citizens and many lawmakers in Seoul, has now reached what the military terms "initial operational capability," as reported by Korea Times.
Moon campaigned on a pledge to revisit the installation of the new US missile system on South Korean soil, and has publicly considered reversing its deployment.