US authorities introduced the ban on in-flight electronics back in March, citing security concerns. Currently it affects about 50 flights per day from 10 cities, mostly in the Middle East.
Many of the passengers are business travelers who rely on their electronics to work during the flight. Experts raise concerns that the extension of the ban could create logistical chaos on the world's busiest corridor of air travel.
"If it comes in then it looks like it will cause short-term chaos and short-term financial loss to a great many people, but the logic of it is that it must extend to the rest of the world all the way to the South Pacific and South East Asia. It will change the way particularly business class passengers travel internationally," McKinley said.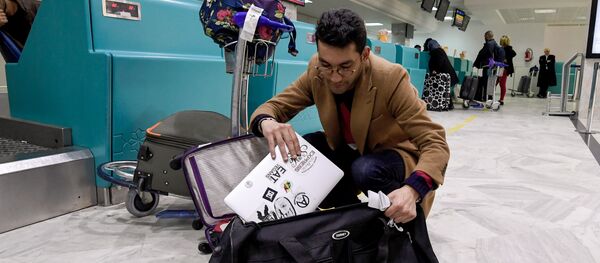 He further spoke about how there are many unanswered questions about this ban and how it still doesn't prevent what happens inside the United States.
"There are infinite possibilities of how terror attacks can take place and if you look at all the conceivable possibilities like for example, a bomb brought on a plane in a soda can, people would probably not travel or if they did they would consider it a lottery win to the other end," McKinley said.
Talking about possible reasons for Washington to extend this ban to the EU, the analyst said, "If it ever turns out that there was a successful attack using the cavity in a laptop to put in explosives then the government will be accused of not having taken sufficient precautionary measures, because that is always the case," McKinley said.
He further said that the governments usually come up with a worst case scenario in such cases.
Talking about the airlines and their reaction to it, the analyst said that some airlines have decided that it has little to do with security and more with the airline war which has seen "Middle Eastern airlines take a very aggressive approach internationally and have taken a great deal of business from some of the most established American and European airlines."
McKinley also looked at how this ban can change the relations between Brussels and Washington saying, "Washington has dictated policy since 9/11. What can the EU do, if it tries to take some sort of response which is seen as punitive then that will create even more tensions between Washington and the rest of the world."
He also said that there is another bizarre scenario in which many of the airlines that have been affected are actually buying hundreds of aircraft from the US.
In March, the United States has already introduced a similar ban on electronic devices larger than a cellphone in the cabins on direct flights to the United States from Egypt, Jordan, Kuwait, Morocco, Qatar, Saudi Arabia, Turkey and the United Arab Emirates.
Flights to the United States by major regional airlines, including Royal Jordanian Airlines, Egypt Air, Turkish Airlines, Saudi Arabian Airlines, Kuwait Airways, Royal Air Maroc, Qatar Airways, Emirates and Etihad Airway were affected by the ban.
Never miss a story again — sign up to our Telegram channel and we'll keep you up to speed!