Many experts say that this is done to make US armor less visible to the state-of-the-art radar, infrared and thermal sensors, and  other target acquisition equipment installed on Russia's latest Armata tanks and armored vehicles.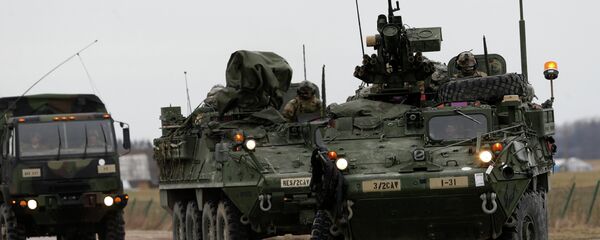 Last week, the US Army's 2nd Cavalry Regiment, stationed in Vilsek, Germany was issued Barracuda camouflage for its Stryker armored vehicles.
According to the designers, the new camouflage system prevents the fighting vehicle from being identified by radar and infrared sensors, seen or targeted. It also increases their survivability and gives the crews more time to make a decision.
The Barracuda camouflage, designed by Sweden's defense and security company Saab, is being tested as part of the large-scale training of NATO's multinational force in Europe to contain imaginary "Russian aggression."
According to Saab representatives, if the current tests of their mobile camouflage system are a success, an order for its mass-scale deliveries could be placed already in June.
The Barracuda Mobile Camouflage System (MCS) is a tailor-made, multi-purpose covering with optimized colors, designs and properties for all environments.
It enhances survivability, sustainability and logistics of vehicles and equipment, while continuously providing "stealth" or masking capabilitiesy in the visual, near-infrared, thermal infrared and broadband radar wavelengths.
Compared with conventional paint, the MCS is non-reflective blurring the combat vehicle's silhouette and making it blend in with the surroundings.
Specialists insist, however, that no camouflage, no matter how advanced, can make a tank or an armored vehicle completely invisible to the enemy.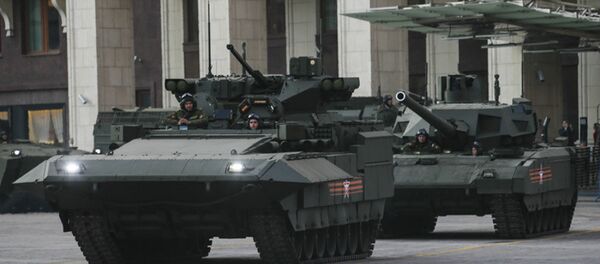 21 February 2017, 18:51 GMT
In an interview with Sputnik, military expert Viktor Baranets said that the current tests of the Barracuda camouflage were more about politics and PR.
"They are trying to show that, in addition to weapons and hardware, they also have such camouflage systems. The much-trumpeted Barracuda system is just a lot of hot air, like all the talk that our radars don't 'see' their planes. Baloney! The Americans have recently stepped up their flights along our border and our radars see them all right, despite all the 'anti-radar' paint they put on their planes," Baranets said.
"They simply want to show us that if they camouflage their tanks and cannons, we, Russians, will not see them. Give me a break!" he added.
Russia's state-of-the-art T-14 Armata main battle tank boasts a target tracking system and computer unit, which significantly increase its efficiency on the battlefield and enable it to destroy enemy armored vehicles with the very first shot.

Never miss a story again — sign up to our Telegram channel and we'll keep you up to speed!