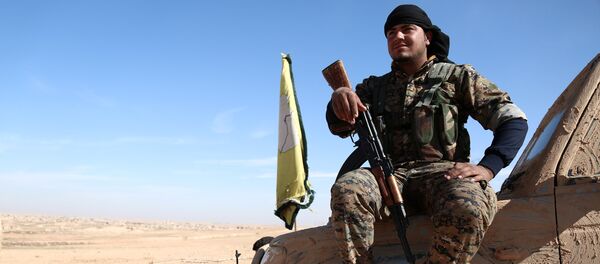 ANKARA (Sputnik) — On Tuesday, Erdogan and Trump met at the White House, during which the two leaders discussed among other issues, the Kurds. This topic is particularly relevant as earlier in the month
Trump approved a plan to arm the YPG
in Syria in order to intensify the fight against terrorists, despite Turkey's objections.
During a joint press briefing, Trump said that the US supports Turkey in its fight against Daesh and the PKK (Kurdistan Workers' Party), which is considered a terrorist organization by Ankara.
"We openly told [the US administration] that any attack by the YPG on Turkey will immediately trigger a response as per Turkey's rules of engagement and no one will be consulted prior to our action," Erdogan told reporters after the meeting.
Erdogan added that Turkey decided to abstain from joining the Kurdish-led operation to liberate Syria's Raqqa from Daesh terrorist group as the US-backed offensive would involve the YPG.
"What we are telling them is this: We cannot be a party to such a policy. We cannot support you. We find cooperation with a terrorist group to free Raqqa wrong … We told them to ignore terrorist groups and join us to combat terrorism. Unfortunately, they failed to agree," Erdogan stressed.
Ankara considers the YPG to be affiliated with the Kurdistan Workers' Party (PKK), which is listed as a terror group in Turkey, the United States and the European Union. However, the Kurdish-led Syrian Democratic Forces (SDF) militia alliance, which includes the YPG, have been receiving support from the United States in fighting Daesh terrorists in Syria.