The National Offshore Petroleum Safety and Environmental Management Authority (NOPSEMA), a government agency tasked with monitoring industry compliance as well as tracking well integrity, health and safety, and environmental management of Australia's petrochemical industry, did not report a 2016 two-month uncontrolled underwater oil pipeline leak, only releasing the data now in its annual report.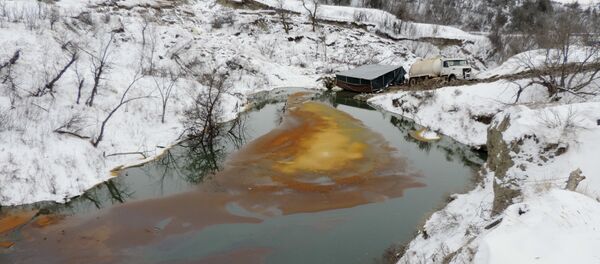 14 December 2016, 19:29 GMT
Following a routine inspection in 2016, NOPSEMA technicians identified an underwater oil pipeline that was continuously leaking oil at the rate of some 50 gallons a day, according to a report by The Guardian.
According to the report, some 3,000 gallons of unprocessed crude oil spewed into the surrounding marine ecosystem over the course of two months before the leak was finally patched.
A spokesperson for NOPSEMA claimed that the leak occurred after a pipeline seal failed. The spokesperson would not reveal the name of the company that owns and operates the pipeline, or the precise location of the spill, asserting only that it happened on the North West Shelf, about 155 square miles of open ocean of varying depth off the coast of Western Australia, which boasts extensive oil and gas deposits.
NOPSEMA and local government officials came in for heavy criticism from Greenpeace Australia Pacific for suppressing the information. The environmental organization observed that no punishments or fines have been levied against the unnamed operator of the pipeline.
"Australians, and especially those who rely on the ocean for their livelihood, should be deeply concerned by reports that the national oil regulator has withheld information from the public," a senior Greenpeace official said.
"There's absolutely no justification for continuing to keep the company involved or the location of the oil spill a secret. NOPSEMA must immediately make the identity of the company involved and the location of the spill available to the public," Greenpeace added.
According to the new NOPSEMA annual report, undersea petrochemical leaks increased some 28 percent in 2016, while inspections concurrently dropped 27 percent.
"NOPSEMA's performance report should be a wake-up call to the government and to anyone who has the bad luck of sharing the marine environment with the oil industry," Greenpeace asserted.