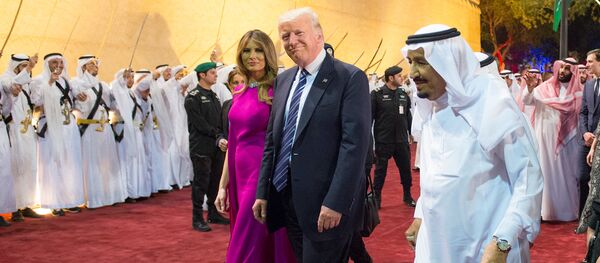 When US President Donald Trump arrived in Tel Aviv on Monday, he was greeted warmly by Israeli Prime Minister Benjamin Netanyahu despite Israel's displeasure over the huge arms deal Trump clinched with Saudi Arabia on Saturday, worth up to $350 billion.
"Saudi Arabia is a hostile country and we must ensure that Israel's qualitative military edge is preserved," Israeli Energy Minister Yuval Steinitz said before a cabinet meeting on Sunday, adding that Washington should have consulted with Israel before inking the deal.
"Hundreds of millions of dollars in weapons deals is something we should receive explanations about."
When he arrived in Israel, following his two-day trip to Saudi Arabia, Trump was quick to offer the Israelis justification for the deal. 
Following a meeting with Israeli President Reuven Rivlin, Trump appealed to the anti-Iran sentiment in both Israel and Saudi Arabia. He related his meetings with Saudi leaders and declared that Israel and Saudi Arabia have a common goal – to deter "the threat posed by Iran," the US President said.
© AFP 2023 / MANDEL NGAN /
US President Donald Trump, first lady Melania Trump, Sara Netanyahu and Israel's Prime Minister Benjamin Netanyahu pose for pictures before an official diner in Jerusalem on May 22, 2017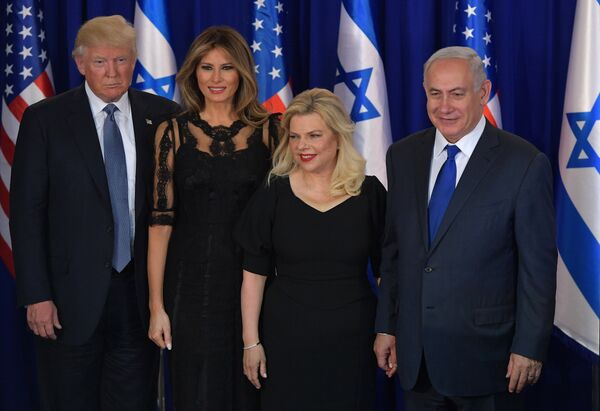 US President Donald Trump, first lady Melania Trump, Sara Netanyahu and Israel's Prime Minister Benjamin Netanyahu pose for pictures before an official diner in Jerusalem on May 22, 2017
Trump also criticized the nuclear deal negotiated under the Obama administration and told Netanyahu that Iran will never have nuclear weapons.
"Maybe because they feel so good, they can do what they want… (but) Iran will never have nuclear weapons, that I can tell you," Trump told the Israeli leader.
Shortly after Trump's comments, Iranian President Hassan Rouhani dismissed the criticism and said the country would continue its missile program.
"The Iranian nation has decided to be powerful. Our missiles are for peace and for defense… American officials should know that whenever we need to technically test a missile, we will do so and will not wait for their permission," Rouhani told a news conference, broadcast live on state TV.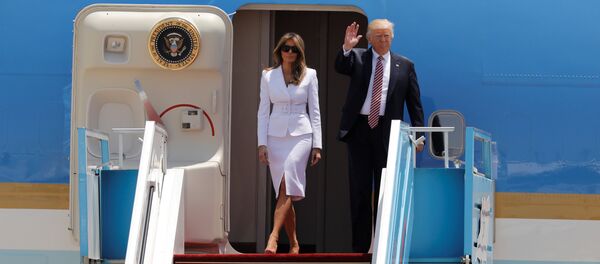 The US President has some way to go before he can persuade Israel and Saudi Arabia, which have no diplomatic relations, to join forces against Iran. 
When the US State Department published a video in Arabic about Trump's upcoming visit to the Middle East, officials left out the fact that he would be following his trip to Saudi Arabia with a visit to Israel.
Trump's visit to Israel comes amid a cooling of the enthusiasm that initially greeted his election, as a result of his staunch pro-Israeli stance. Trump made a campaign pledge to relocate the US Embassy from Tel Aviv to Jerusalem, and Israeli officials have reportedly been putting pressure on the White House to follow through on the promise.
According to the Frankfurter Allgemeine Zeitung, Israeli officials are also less than impressed that Trump is slated to spend only 15 minutes at the Yad Vashem Holocaust memorial on Tuesday, which will give the US President time for little more than a photo opportunity as he lays a wreath.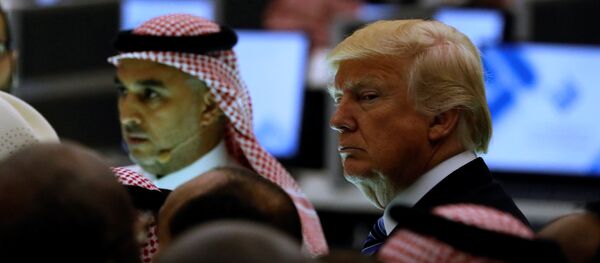 Both Israel and the US hope the visit can smooth over other recent disagreements. According to Foreign Policy, Israeli intelligence officers told their
US counterparts they are "horrified"
about Trump's alleged disclosure of sensitive information to Russian Foreign Minister Sergey Lavrov and Ambassador to the US Sergey Kislyak at the White House.
Last week, the Washington Post claimed — citing unnamed sources — that Trump allegedly disclosed highly sensitive information about how terrorist organizations plan to use laptops as bombs on airplanes. 
On Monday, the US President told reporters in Israel that he never mentioned Israel during the meeting with the Russian officials.
"I never mentioned the word or the name Israel. Never mentioned during that conversation," Trump told reporters before the meeting with Israel Prime Minister Benjamin Netanyahu, as televised by the C-SPAN broadcaster.
Trump's visit to Israel will last through Tuesday. Following the talks with Netanyahu in Jerusalem on Monday, Trump is expected to meet Palestinian leader Mahmoud Abbas in Bethlehem in the central West Bank on the following day.
The president will discuss bilateral relations and Israeli-Palestinian conflict with both leaders separately.