WASHINGTON (Sputnik) — On May 9, the US Defense Department announced that President Donald Trump had approved a plan to arm Kurdish People's Protection Units (YPG), the military branch of the Syrian Kurdish Democratic Union Party (PYD), in order to better fight Daesh terrorist group (banned in Russia) in Syria, despite objections from Turkey.
"I can hardly understand and accept the argument that the US has to conduct the operation in Raqqa by making use of YPG/PYD since there is no alternative on the ground. There is Turkey and there is Free Syrian Army that have successfully conducted the operation Euphrates Shield against Daesh… You cannot and you should not make use of a terrorist organization in your fight with another terrorist organization. Especially, when your 65-year-old ally tells you that this terrorist organization, that you are in partnership with, constitutes an existential threat to its national security and stability," Kilic said at an annual conference on the Turkey-US relations.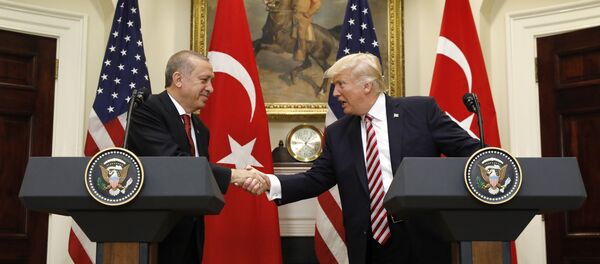 Ankara considers the YPG to be affiliated with the Kurdistan Workers' Party (PKK), which is listed as a terror group in Turkey, the United States and the European Union. However, the PYD and YPG, as well as the Kurdish-led Syrian Democratic Forces (SDF) have been receiving support from the United States in fighting Daesh terrorists in Syria.
According to Kilic, Turkey, along with Free Syrian Army, have killed over 3,000 Daesh militants in Syria, and over 60,000 Syrian refugees have received the opportunity to return to their home towns, liberated from terrorists.
Earlier in May, Turkish President Recep Tayyip Erdogan visited Washington and held talks with Trump, during which the two sides discussed the Kurdish issue among other topics.