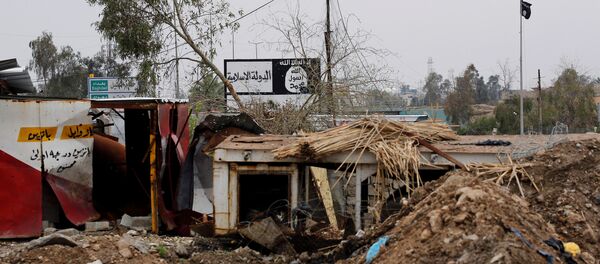 BAGHDAD (Sputnik) – Daesh, outlawed in Russia, has relocated its headquarters from the northern Iraqi city of Mosul to the town of Hawija in the province of Kirkuk, a source in the province's security services told Sputnik on Tuesday.
"All IS [Daesh] leaders left Mosul for the Hawija district located 55 kilometers [35 miles] west of Kirkuk. The headquarters was relocated because of the impending defeat of the group in Mosul's Old City," the source said.
The Iraqi operation to recapture Mosul, the key stronghold of Daesh in Iraq, began in October 2016 and resulted in the liberation of Mosul's eastern part this January. Fighting continues in the city's west, with Iraqi forces closing in on the Old City.
Hawija has been under Daesh control since the 2014 jihadist, which invasion that resulted in the fall of many northern and western Iraqi towns and cities. In March, Kirkuk's governor Najmaldin Karim called the Iraqi decision to liberate Mosul before retaking the control over Hawija and other provincial districts a mistake.