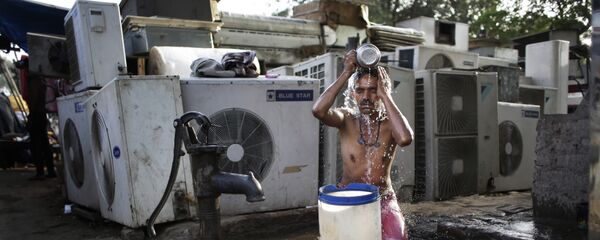 New Delhi (Sputnik) — According to the meteorological department of the eastern state of Chhattisgarh, the temperature on Tuesday morning recorded at 49.3 degree Celsius in Bilaspur which is highest ever temperature here. The department has predicted the temperature will be above 46 degree Celsius for a few more days. In other states like Telangana and Andhra Pradesh, temperature is still hovering above 45 degree Celsius for the last few weeks and has reportedly claimed more than 200 lives in the state.
The southern parts of India are especially facing severe water crisis, which is forcing farmers to end their lives under the burden of high debt due to crop failure this year. The southern region includes the states of Andhra Pradesh, Telangana, Karnataka, Kerala and Tamil Nadu.
"There are 31 reservoirs under Central Water Commission monitoring having total live storage capacity of 51.59 BCM. The total live storage available in these reservoirs is 4.04 BCM which is 8% of total live storage capacity of these reservoirs," the Ministry of Water Resources reported on May 19. The storage during the current year is way less than the average storage of last 10 years during the corresponding period. Water storage available in 91 major reservoirs of the country is 23% of total storage capacity of these reservoirs.
India has witnessed more than 4,600 deaths caused by heat wave over the last four years.