"Americans use this aircraft carrier to carry out airstrikes against Daesh targets in Iraq and Syria. Iranians use their drones to observe these operations, irritating US troops who are unable to do anything about it since they are in international waters," the analyst said.
The first Iranian drones spying on US ships were spotted in 2012. In recent months, similar encounters happen nearly every day.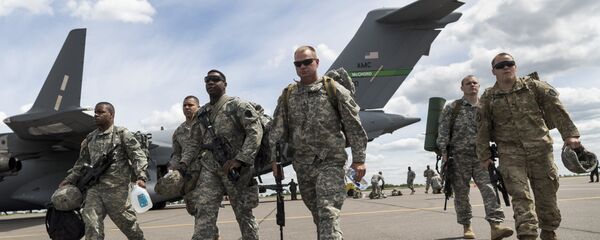 Earlier in May, Capt. Will Pennington, Commanding Officer of the USS George H.W. Bush, told Military.com that Iranian drones are not "small, radio-controlled" UAVs, but are instead meant for reconnaissance. He also said that the aircraft carrier has multiple means in its arsenal to protect itself from the drones.
These include built-in defense systems of the warship, as well as helicopters and escort vessels. 
"However, all of this has clearly gotten [on the Pentagon's] nerves," Plekhanov observed. "Each time a drone approaches the carrier [the US service personnel] views it as a potential combat situation. However, Pennington is not ready to shoot down the UAVs since the move could lead to an escalation of the already strained relations with Tehran and drastically change the strategic situation in the region."
The analyst further said that the USS George H. W. Bush is unlikely to down Iranian drones, while Tehran is unlikely to use them to attack the ship. Moreover, even surveillance from a close distance does not allow the Iranian military to obtain any confidential information, he added.
Never miss a story again — sign up to our Telegram channel and we'll keep you up to speed!