MEXICO CITY (Sputnik) — Folha de Sao Paulo reported that demonstrators demanding the resignation of President Michel Temer set fire to the agriculture ministry and assaulted buildings of the ministries of planning, health, finances, culture, labor, and science.
BRAZIL: Smoke can be seen rising from Ministry of Agriculture in Brasilia after clashes between anti govt protesters and police. pic.twitter.com/GJpvCs1jlv

— Gabriel Elizondo (@elizondogabriel) May 24, 2017
​Authorities have reportedly ordered the ministries to evacuate. They are now guarded by 1,500 soldiers who have been called to the capital to assist police forces. The Federal District's Interior Ministry said four people had been arrested.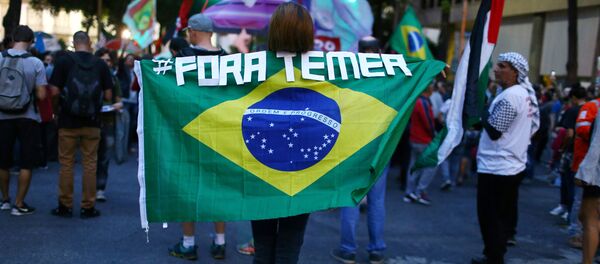 The outlet said 49 people had been injured in clashes with police after tens of thousands marched to the Congress. Various media estimated up to 150,000 took part in protests that had gripped Brasilia since noon, although the official figure stood at 35,000. Seven people were reportedly arrested.
Protesters demanded an end to controversial economic reforms and a snap election after the sitting president has been implicated in a corruption probe surrounding the state oil company Petrobras.
Pressure has grown on Temer after a major local newspaper, O Globo, obtained a recording that allegedly showed the president discussing bribes to silence a witness in the corruption scandal. Temer has denied wrongdoing and filed a petition on Saturday to end a Supreme Court probe but later withdrew it.