Kelly stated that 250 people have already died of cholera in Yemen this month, with hundreds of new cases found every day. The roughly 2 million malnourished children in Yemen are particularly at risk for contracting the disease, she added.
​Calling the health situation an "artificially created catastrophe," Kelly said a "cholera outbreak knows no borders."
"It's an extremely alarming situation but it could be prevented from spreading. But right now you've got the port of Hodeidah being crippled by the destruction of five cranes that were of great importance for lifting food, fuel [and] supplies and getting in onto trucks that could take it through the country."
She noted that 90 percent of Yemen's food is imported, and 70 percent of those imports come in through the port of Hodeidah.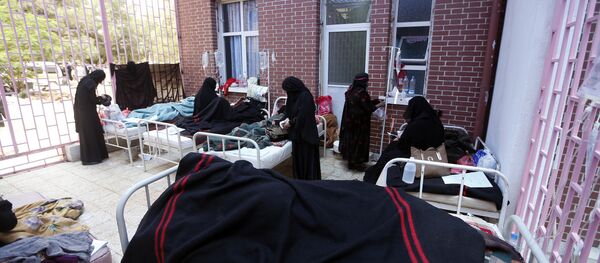 Loud and Clear host Brian Becker pointed out that the civilians so often caught in the line of fire "are poor people in remote areas who haven't done anything to the US and are just trying to eke out a way to live, a way to survive, a way for the kids to survive … Americans don't know and the American media doesn't tell them about what's going on."
Kelly agreed and also suggested that weapons manufacturers often come out on top in these conflicts because of the big profits they make, but the weapons they produce intensify an already dire situation for people in Yemen. Famine is so widespread there now that there are reports of people resorting to eating foliage.
She also noted that in 2016, Yemen took in 117,000 refugees, and hosts 225,000 people who have fled the conflict-driven famine in Somalia.
"When you look at the aggregate of people who are at risk of starving to death in Nigeria, Somalia, South Sudan and Somalia, the United Nations figures are suggesting that it could be as many as 20 million people. That's an astounding number of people to die. And to slash US contributions to United Nations agencies seems to be at this point so cruel," she said.