The authorities did not give any details about civilian casualties. The operation comes as rebels from the Maute group have rampaged through the city streets since Tuesday night, setting buildings on fire, taking hostages and sealing off much of the city.
There were reports suggesting that Daesh claimed responsibility for Maute's actions. Earlier on Tuesday, President Duterte imposed a 60-day martial law on the island of Mindanao with substantial Muslim minorities.
Radio Sputnik discussed the issue with Richard Javad Heydarian, an assistant professor of political science at De La Salle University, and a former policy adviser at the Philippine House of Representatives.
"The Maute group was some sort of private militia of the Maute family or a major political dynasty in the region where the city of Marawi is. Now since last year they have pledged allegiance to Daesh and other major extremist groups such as the Abu Sayaf group and they have expressed interest in creating a 'Vilayet' or province of ISIS here in South East Asia," Heydarian said.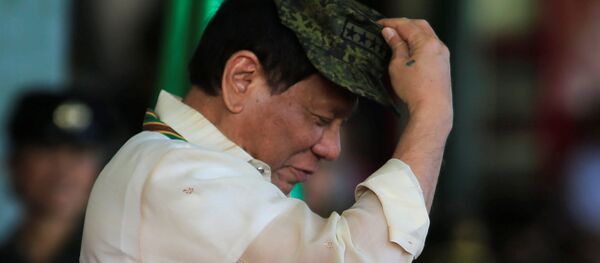 He further said that the operation on Marawi was perhaps a revenge operation because a few days earlier on Tuesday when Duterte had just arrived in Moscow there was a failed raid on an Abu Sayaf leader.
"Perhaps the fact that Duterte and much of his cabinet officials including his national security adviser were there in Russia thousands of miles away kind of emboldened them to take this very daring and audacious rampage across Marawi city," Heydarian said.
According to the analyst, the Maute are hard to tackle because they are most explicit in their affiliations and what is important to understand here is that "although Duterte is a tough-talking guy the fact of the matter is that for the past 10 months he dedicated much of his attention and energy to wage a war on drugs and he kind of neglected the peace process with the insurgent groups and that created some sort of peace vacuum that is being exploited right now by ISIS affiliate groups," he said.
He said that the danger lies in the fact that "eventually terrorist groups from Mosul and Raqqa may even join them and come all the way to South East Asia and it is because of that, that the Philippines government introduced a martial law scenario," the analyst said.
Heydarian further spoke about why the Philippines government should quickly respond to this situation and how Duterte is looking for new allies in this fight against terrorism, allies such as Russia and China.
Thousands of civilians have reportedly fled the southern town of Marawi since fighting between Daesh-affiliated Maute gunmen and government troops erupted there three days ago.
Philippine radio ABS-CBN cited Armed Forces spokesman Restituto Padilla as saying Friday that foreigners – presumably from Malaysia, Singapore and Indonesia – were among 31 militants slain in gunbattles that have been raging in Marawi.