In his analysis piece, published by RIA Novosti, the economist explained that Moody's explanation for downgrading China's rating (i.e. that "China's financial strength will erode somewhat over the coming years" due to rising economy-wide debt and slowed potential growth) is really a cover for motives which are at their core political in nature.

"The fact is that for a long time now, Western rating agencies have been performing a role that is political, rather than strictly commercial," Danilov wrote. "Trying to find objectivity in their actions can only evoke a wry smile." Unfortunately, however, these politicized decisions have real-world financial and economic consequences, the economist added. 
"Lowering a country's credit rating is not only a propaganda weapon, but also a very serious tool of economic leverage against one's geopolitical opponents. The mechanism of this leverage works because the vast majority of private and public investment funds, as well as a significant portion of large corporations, is guided by such ratings when making the decision on whether to invest in a particular country."
"To put it bluntly, every downgrade of a country's rating instantly cuts off a certain portion of foreign investors, and forces some of those who have already invested in the country to immediately sell their investments," Danilov explained. "If the number of such 'runaway investors' reaches a certain critical mass, the shares and bonds market of the affected country collapses, along with its currency." 
The economist emphasized that attentive economic observers, who have already seen a similar scheme attempted against Russia in recent years, should recognize the pattern as it is now being used in China.
Double Trouble
In the Chinese case, Danilov noted, the situation is further complicated by the fact that Beijing is presently engaged in a very difficult struggle against capital flight, aimed more than anything "against its own capitalists and officials, who are trying to take their families out of the country, get a 'political' or 'investor' visa in Canada, Australia or the US, and then leave China, together with a big chunk of change."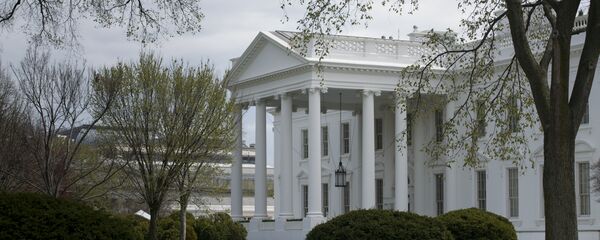 In other words, the analyst explained, "Moody's decision irritates Beijing doubly, because it will have to deal not only with outgoing foreign investors, but also the stirring up of China's 'financial fugitives'. Once again, the attentive reader will catch the parallels between what is happening in China now, and certain moments in recent Russian history."
Saying that Moody's decision was really nothing less than an act of 'financial sabotage,' Danilov emphasized that this observation can be confirmed by the recent campaign to whip up panic over the Chinese economy's prospects by Western media giants such as Bloomberg, Reuters and The New York Times, "which have synchronously begun bombarding readers with analytical materials about the 'debt bomb' planted under the foundation of Chinese economic growth." This kind of massed media attack on China "looks more like a well-coordinated operation than the individual initiative of analysts and journalists," the economist added.
How Do You Solve a Problem Like China
According to Danilov, "the desire to find a solution to 'solve the China problem' once and for all is one of the rare elements that unifies the entirety of the American political elite, including 'renegade' president Donald Trump and his team, who proved unable to get Beijing to agree to give up North Korea, or make any significant concessions on important issues on global trade and protectionism to the US."
All of this is particularly appropriate as China's 'One Belt – One Road' initiative starts to take concrete shape, and an increasingly global scale. "The recent summit in Beijing on this topic has provoked from Washington a mixture of fear and irritation, which could well lead to the desire to try and trip up Chinese ambitions financially," the economist wrote.
© Sputnik / Alexei Nikolskyi
 / Go to the mediabank
May 14, 2017. President Vladimir Putin and President of China Xi Jinping, right, during a walk after the Russia-China talks at the One Belt, One Road international forum.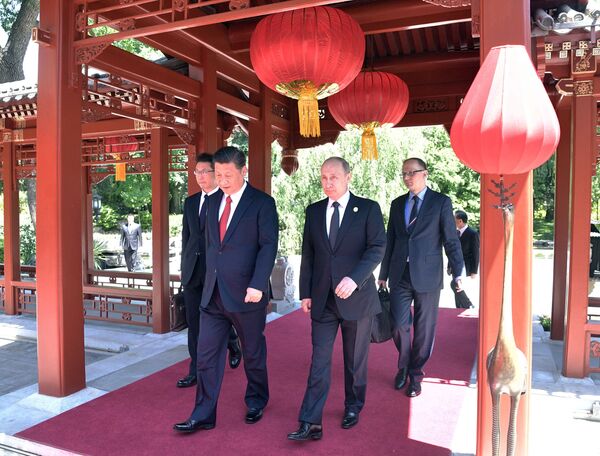 May 14, 2017. President Vladimir Putin and President of China Xi Jinping, right, during a walk after the Russia-China talks at the One Belt, One Road international forum.
© Sputnik / Alexei Nikolskyi
/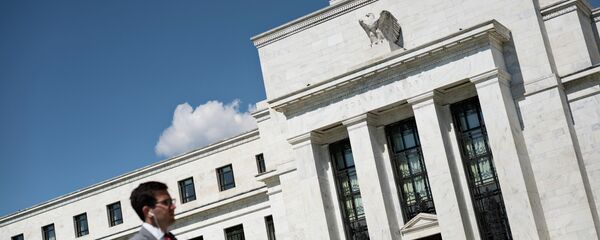 Furthermore, he added that, "because the US has traditionally been considered a kind of financial safe haven, in the event of any serious problems in other parts of the world, economic capital has traditionally fled to the US stock and bonds markets, which cannot but please those who organized the Moody's financial diversion."
"An additional bonus is the fact that in the event of real problems emerging in the American economy, any negative consequences can be blamed on the Chinese debt crisis provoking a global chain reaction. For the US elite, writing off all the problems of the American economy on China may be just as tempting as trying to write off all its political problems on Russia's interference in the US elections," the expert stressed.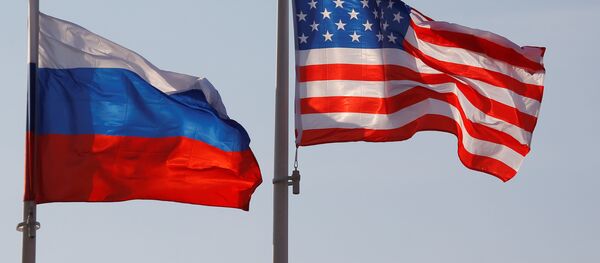 Finally, Danilov noted, "Moody's attack on China miraculously coincided with a statement by White House budget director Mick Mulvaney, who admitted this week that tax revenues have begun to decline, and that the US federal budget may be left without funds sooner than previously expected."
"Translated this into plain language, this means that the US debt ceiling will have to be raised again, and that this will have to be done sooner than expected. Under these conditions, the influx of panicked capital running from China will arrive in Washington at a very opportune moment."
Cleaning Up the Financial Mess
According to Danilov, Beijing has successfully cleaned up the consequences of last week's downgrade, including the temporary fall in the exchange rate of the yuan, and in China's stock market indexes. This was possible thanks to the intervention of state-tied financial institutions. As for whether China will be able to just as quickly fend off subsequent downgrades, "that is difficult to answer unequivocally," the economist stressed.
In any case, "it must be said that China's debt problems are real, and Beijing recognizes the problem and is working on a solution; nevertheless, the actions of the US rating agency are obviously partisan. If they were fair, the US itself, as well as many countries of the EU, would be subjected to a similar downgrade. Today, according to Moody's, China's credit risk rating is at the same level as Estonia, and higher than that of Australia, whose entire economy is dependent on Chinese investment and exports to China."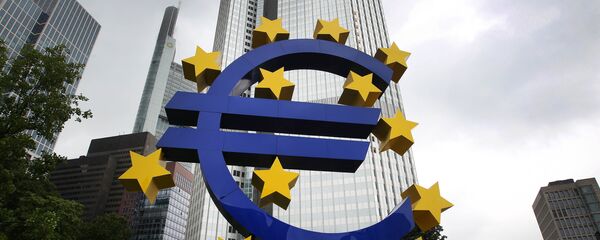 Moody's actions create another serious problem, one which Russia too has faced. The problem, Danilov explained, is that "Chinese companies have become addicted to dollar loans, which they get at low interest rates on global credit markets. However, this fondness for dollars creates an unpleasant dependence on the goodwill of foreign credit institutions," and can backfire. "After all, downgrading a country's rating automatically pulls down the corporate ratings of individual Chinese borrowers as well, which in turn raises interest rates on their dollar loans, and even deprives some companies of access to refinancing on their foreign currency loans."
"This," Danilov recalled, "to some extent resembles the unpleasant events which accompanied the start of the all-out Western attempts to pressure the Russian economy" between 2014 and 2015.
BRICS Alternatives
Ultimately, Danilov recalled that "after the first wave of the global financial crisis, BRICS countries began work to create their own parallel financial structures, which could replace or at least compete on equal terms with their Western counterparts. After the start of the Ukrainian crisis, and the mass use of Western rating agencies in the geopolitical struggle, it seemed as though all the countries which had fallen into this situation, or might fall into it, realized the need to create and support alternative rating agencies which could one day deprive the US of the ability to use credit ratings as weapons of mass economic destruction."
BRICS leaders at the 2016 summit in Goa.
© Sputnik / Alexei Druzhinin
/
And while some progress has been made in this direction, "it is becoming increasingly obvious that more must be done, and quickly," the economist stressed. "The US is sending China and Russia a message – that 'all the elements of financial infrastructure that you do not take away from Washington in time will be used against you in time.' It is worth listening to this message, and drawing the right conclusions from these first volleys of this new stage of the global financial war."