On Friday, two local Portland men, 53-year-old Ricky John Best and 23-year-old Taliesin Myrddin Namkai Meche, attempted to calm a man who had begun shouting epithets and other threats at two young women wearing traditional Muslim dress on a train in the northwestern US city.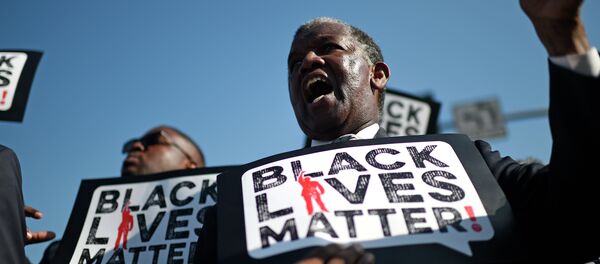 The 35-year-old white male assailant, now identified as Jeremy Christian, pulled out a knife and attacked the two men who were attempting to diffuse the situation, killing them both. Christian then stabbed and injured a third person. The women the attacker harassed were not harmed, and Christian fled the train.
According to the police report, officers responded to a call on Friday concerning a man verbally abusing two Muslim women. The report documented that "two of the victims attempted to intervene with the suspect and calm him down. The suspect attacked the men, stabbing three, before leaving the train."
After being identified, Christian was arrested and booked on attempted murder, aggravated murder, hate crimes and being a felon in possession of a restricted weapon.
The killer was known to local police and residents. A vocal racist, Christian had been documented parading through city streets with an American flag draped around his shoulders yelling racial epithets and making Hitler salutes.
As reported by the Portland Mercury, Christian has a criminal record beginning in 2002, when he was convicted of first-degree robbery and second-degree kidnapping, as well as receiving a dangerous weapon conviction.
Following the tragedy, a sister of Meche emailed a statement to The Washington Post about her brother. "In his final act of bravery, he held true to what he believed is the way forward. He will live in our hearts forever as the just, brave, loving, hilarious and beautiful soul he was. We ask that in honor of his memory, we use this tragedy as an opportunity for reflection and change. We choose love."