MOSCOW (Sputnik) — On Sunday, the ministry said that a total of 151 people have died and 111 are missing due to the floods.
"164 deaths and 104 missing reported," the ministry's Disaster Management Centre (DMC) said in a new situation report.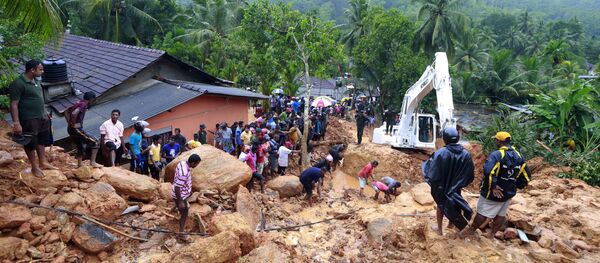 Earlier in the day, Chinese Leader Xi Jinping expressed condolences to President of Sri Lanka Maithripala Sirisena and offered to
provide support
in dealing with consequences of the large-scale destruction caused by the floods. The Chinese Ministry of Commerce said that Beijing will contribute the humanitarian aid worth almost $2 million to the crisis-hit country.
The emergency is reportedly the worst since 2003 when a tropical cyclone swept through southwest Sri Lanka, causing flooding and landslides that killed 260 people and destroyed almost 25,000 homes.