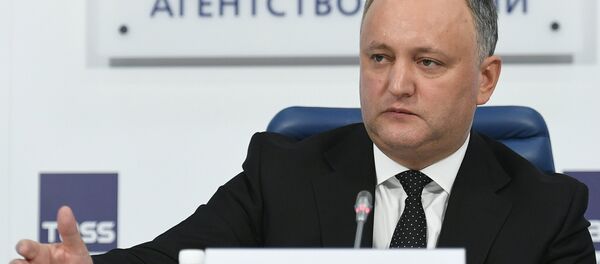 MOSCOW (Sputnik) – Moldovan President Igor Dodon expressed hope on Tuesday that Prime Minister Pavel Filip would resign following the state's authorities decision to expel five Russian diplomats.
Earlier in the day, Filip said that Monday's decision to remove Russian diplomats was made on the grounds of intelligence provided by the nation's security services. However, the first deputy chairman of the Russian Federation Council's International Affairs Committee Vladimir Dzhabarov said the Moldovan authorities' move, which was aimed at worsening relations with Moscow, was rooted in the fears over the rising influence of Dodon, who wants to improve ties with Russia.
"I hope to sign other resignations in the near future. May be the prime minister will also resign because of the yesterday developments," Dodon said in the follow-up to signing four resignations handed in by the ministers of the Moldovan Liberal Party.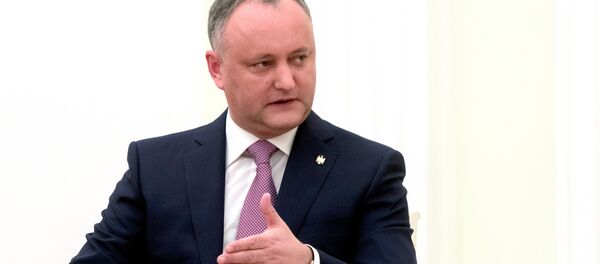 The Liberal Party's ministers applied for resignation earlier in the day, which mirrored the decision of Moldovan Liberal Party's leader Mihai Ghimpu, who on Friday, announced that he would be leaving the ruling coalition.
Earlier in the day, Dodon announced that immediately following his return from the International Economic Forum in Russia's St. Petersburg (SPIEF) set for June 1-3, he intended to convene the Supreme Security Council, where he would demand a report from Moldova's foreign minister and the Information and Security Service chief, who had signed the decrees expelling the Russian diplomats.
The SPIEF is the key global platform for business representatives' communication and discussion of crucial economic issues that the world faces. At least 39 ministers from 26 states have confirmed their participation in the 2017 forum. Rossiya Segodnya International Information Agency is the official media partner of the forum.