New Delhi (Sputnik) — Indian Prime Minister Narendra Modi reaffirmed the country's commitment to the 2015 Paris climate change deal at the St. Petersburg International Economic Forum (SPIEF) on Friday with Russian President Vladimir Putin in attendance. China has already pledged its support for the deal and the European Union too has made it clear that it won't support the US' stance.

Trump is not only facing resistance from outside the border: within the US, states run by Democratic governors have questioned and strongly criticized Trump's decision, highlighting deep divisions within American society and polity.
"Even before Paris agreement, India has been working to protect the climate," Modi said at the SPIEF on Friday. Modi's environment minister, Harsh Vardhan, said it more unequivocally: "Our government is committed irrespective of the stand of anyone, anywhere in the world."
Trump on Thursday pulled the US, also the world's second largest emitter of greenhouse gases, out of the Paris climate pact, saying the treaty is soft on China and India.
"The fact that the Paris deal hamstrings the United States while empowering some of the world's top polluting countries… That's not going to happen while I'm president, I'm sorry," Trump said as he made saying.
Further, "India makes its participation [in the Paris climate treaty] contingent on receiving billions and billions and billions of dollars in foreign aid from developed countries," Trump continued.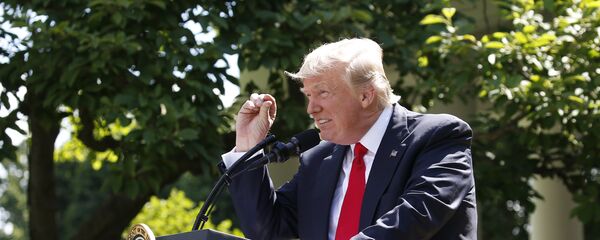 Experts said that India and Russia need to cooperate multilaterally, and, in fact, are doing so on issues of common interests such as terrorism, climate change, rules-based international order, the World Trade Organization and in other areas.
"The global order has become volatile with the coming of the Donald Trump administration. India and Russia not only need to enhance bilateral cooperation, but also work with countries in areas of common interest, and climate change is one such major area," Nandan Unnikrishnan, vice president at the New Delhi-based Observer Research Foundation, told Sputnik.
The Paris agreement commits the US and other countries to keep rising global temperatures well below 2 degrees Celsius higher than pre-industrial levels and endeavor to limit them to 1.5 degrees Celsius. Only Syria and Nicaragua did not sign the deal, Nicaragua because it felt the agreement did not go far enough.