"Concerning the theoretical possibility of the US troop deployment on these [Kuril] islands if we assume that they would someday come under the sovereignty of Japan. Well, yes, this possibility exists," Putin said when asked about Kurils' demilitarization.

23 February 2017, 09:44 GMT
According to him, "it
follows from an agreement and… signed protocols."
"They don't show them to us, but we generally know their content…
T
here is a possibility of US' troops' deployment on these territories," Putin said at the SPIEF-2017.
He stressed that in general, such a situation does not frighten Russia and will not affect relations with the United States.
"Of course, you can ask yourself: are we going to somehow deteriorate relations with the United States, does it scare us? No, we are not going to worsen them [ties]. And we aren't afraid of anything at all. But we see what is happening now in the United States, I mean the anti-Russian campaign, Russophobia, they continue. We do not know how the situation will develop. It does not depend on us. We are not the initiators of this process. Even if we theoretically assume that everything is fine there [on South Kuril Islands] today, however, tomorrow some bases or elements of the missile defense will appear there, for us this is absolutely unacceptable," the Russian leader said.
The Kuril Islands are the subject of the long-standing territorial dispute between Japan and Russia. Japan lays claim to Kunashir, Iturup, Shikotan islands and the Habomai group of islets. The territorial dispute has prevented Russia and Japan from signing a peace treaty after World War II.
Putin said that Russia's boosting of military potential in the country's Far East and the Kuril Islands is not Russia's initiative, but a reaction on expansion at the country's borders. He said that Russia is thinking how to curtail threats to security near its borders, including the Kurils.
"As for the boosting of our military capabilities in the Russian Far East and the [Kuril] Islands in particular, this is not Russia's initiative, just as in another part of the world — Europe."
He said that the same happens on the western frontiers of Russia toward which NATO infrastructure is expanding, US aircraft carriers are heading toward the region, new elements of the missile defense system are being developed. "What should we do? Just look at it? This is not going to be this way. We are reacting correspondingly."
According to him, Russia is very concerned over the issue and Moscow is speaking of it during decades. "It destroys the strategic parity in the world," Putin said.
The Russian leader noted that mainstream media are silent over these events. "The world is silent as if nothing happens. Nobody listens to us, or listens but doesn't broadcast it. The world community is living without knowledge what is happening and the process is very serious, very concerning process."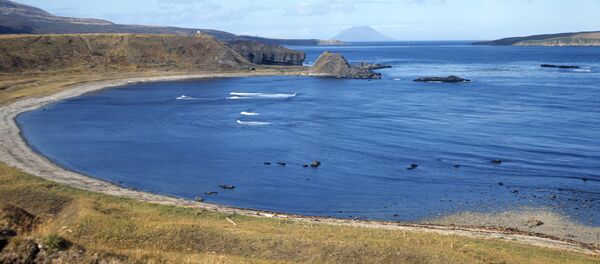 He disagreed with the assessment that Russia "unilaterally initiates militarization" without taking into account the US missile defense system deployment in South Korea.
He said that Russia is forced to react at the US missile defense system expansion, including the deployment of its components, THAAD, in South Korea. Putin said that Washington will find another excuse to expand its missile syste, even if North Korea halts its nuclear program.
Russia mulls options to curtail security threats on the country's distant borders, inluding the Kuril Islands, Putin said.
"We are always thinking of how to respond [to expansion of US missile defense systems]. We are thinking of improving countermeasures to the missile defense systems… The same situation exists with the [Kuril] islands, we are thinking of how to curtail threats to security on our distant borders. From this perspective, the islands are very convenient."
He spoke at a summit of heads of international news agencies as part of the SPIEF-2017, where the Rossiya Segodnya International Information Agency is the official media partner.