The "strong and stable" Mrs. May was going to wipe the floor with Labour and their "useless" "hard-left" leader Jeremy Corbyn — so the dominant Establishment-friendly narrative went.
"Labour might drop below 20 per cent and stay there. There will be ashes but perhaps no phoenix." — Philip Collins in The Times

— Benedict Rogers (@benedictrogers) January 27, 2017​
Now though, Labour has closed the gap to such an extent that one poll analysis has even predicted a hung Parliament. Anti-Corbyn "Inside the Bastille" pundits who referred with great relish to earlier polls as proof that "Jezza" was unelectable and that he was leading Labour off a cliff now tell us not to the believe the polls!
Pundits "Jeremy Corbyn has no chance, look at the polls!"
*Polls show Corbyn gaining*
Pundits "Only idiots believe polls"#GE2017

— James Doleman (@jamesdoleman) May 31, 2017​
The turnaround has been quite remarkable. The question is — how have we got here? What is behind the Labour surge and the slump in the Tory ratings? Five key reasons can be identified.
1. Theresa May's Iron Lady Impression Hasn't Worked
The Prime Minister was promoted by much of the media as the new Margaret Thatcher. She's in fact, as one Twitter user memorably described, been exposed as "Ted Heath in leopard print shoes."
Like her or loathe her, Margaret Thatcher didn't do U-turns. May did one just days after her party's controversial proposals to make the elderly pay more for their social care. She announced that there would after all be an "absolute limit" on how much pensioners would have to pay. The Conservative election strategy was to concentrate on promoting May, but already that's looking like a big mistake.
Seeing her put in an utterly wooden performance on The One Show, brought to one's mind that classic Alan Partridge/"Cheeky Monkey" sketch where Alan tells the ventriloquist Joe Beazley, '"I don't think it's working." May's act isn't working — and it shows.  
2. Jeremy Corbyn Is More Popular Among Ordinary Voters
The opposition leader is more popular among ordinary voters than he is among elite media commentators. If the election was decided from a poll of smug mutually-adoring neocon/neoliberal establishment pundits, then "Jezza" has zero chance of making it to 10 Downing Street — or indeed of blocking a huge Tory majority. But it isn't. It's decided by real people. Real people struggling to make ends meet in an economy structured to benefit the 1%.
Ever since Corbyn threw his now-famous peaked cap into the ring as a 200-1 shot for the Labour leadership in 2015, his chances have been dismissed by members of the Elite Pundits Club, who fiercely oppose any deviation from the politics of the "Extreme Center." They've allowed their anti-Corbyn prejudices to get in the way of objective commentary.  
In horse-racing punditry, tipsters pick the horse they think is going to win — not the one they'd like to win. But in political punditry the elite "experts" are not impartial, but extremely partisan. They trashed Corbyn because they wanted him to do badly — and thought their incessant attacks and smears would ensure that he would indeed fail.
We saw a similar phenomenon in the US. There the "punditocracy" was overwhelmingly hostile to Trump and so consistently rubbished his chances. They couldn't conceive of anyone wanting to vote for Trump because they didn't know anyone who would vote for Trump.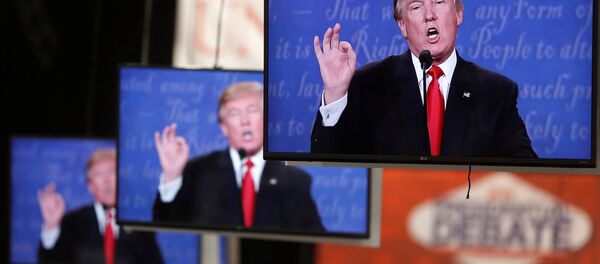 10 November 2016, 13:30 GMT
Pundits from both sides of the Atlantic need to get out more.
3. The Tory Assault on Their Own Supporters
You'd think it fairly obvious, but to win an election you don't go out of your way to alienate your core supporters. But that's exactly what the Tories did with their planned changes to social care and their assault on pensioner benefits.
The Tory manifesto hit pensioners — the most loyal Tory voters — with a triple whammy. The "triple lock" on pensions would be removed, winter fuel payments would be means-tested and pensioners who had assets of over £100,000 (US$129,000) would have to pay for their own social care out of the value of their own homes — a measure that was soon dubbed a "dementia tax."
What on earth were the Tories thinking of when they put forward these shocking vote-losing policies? It's hard to escape the conclusion that they thought they were so far ahead in the polls they could afford to rob the elderly to pay for tax cuts for big corporations and a possible war with Syria in the summer. If so, the strategy failed miserably.
A new poll found that almost twice as many people trust Labour more than the Tories to protect the interests of pensioners.
4. Misjudging Manchester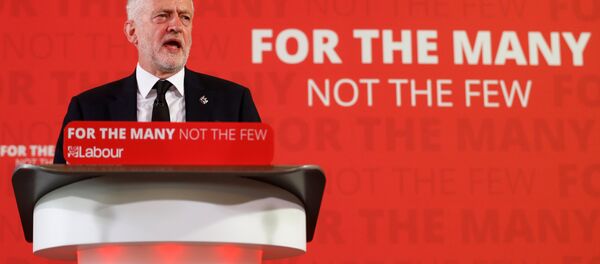 On May 26, Jeremy Corbyn gave a thoughtful speech in which he called for long-overdue changes to Britain's interventionist foreign policy. It led to ferocious attacks from the Tories, with Home Secretary Amber Rudd, a former Political Council member of the neoconservative Henry Jackson Society calling Corbyn's statements "outrageous." But there was nothing "outrageous" —or indeed remotely controversial about Corbyn's speech — which reflected mainstream public opinion. People have had enough of "wars of intervention" which have quite clearly increased the terror threat to UK citizens by turning whole regions of countries, for example in Libya, into jihadist training camps.
Corbyn's views on foreign policy not only chime with the anti-war left, but with vast swathes of conservative Britain too. What percentage of voters support a neocon foreign policy? It's probably less than 2%.
Again, the hysterical attacks on Corbyn for merely stating the obvious, showed just how out of touch the "punditocracy" and the Tories are with public opinion.
5. Labour's Policies Are More Popular
Tories have focused on ad hominem attacks because they know that Labour generally has the more voter-friendly policies. For instance, Labour's commitment to renationalize the railways and water in England are supported by a sizeable majority of the public. 71% support Labour's policies of a £10 (US13) per hour minimum wage by 2020. While the party's plans to increase the top rate of income tax are backed by 62%.
What Labour's manifesto has done is enthuse — and attract back into the fold — people who abandoned the party when it lurched to the neoliberal right. By contrast the Conservative manifesto offers hardly any "goodies" for ordinary members of the public. It's almost as if the Tories thought they were so sure to win, the manifesto wouldn't matter.
While there are other factors too, the above are, I believe, the main reasons why this election hasn't gone to plan for the government. But while Corbyn supporters will be excited by the prospect of their man defying the odds yet again, it's important not to get too carried away.
The Tory lead might have narrowed dramatically, but the party is still ahead and the favorites to form a government after June 8. And, we've had elections before when Labour hopes were built up by promising — looking polls only to be dashed when the results finally started to come in. That said, it's clear that #GE2017 is most certainly not proving to be the cakewalk for Theresa May that the pundits said it would.
Even if he doesn't win or prevent the Tories from getting a majority, the "useless" Jeremy Corbyn has done much better than his detractors predicted. He's certainly faring much better than an Establishment-approved Labour "moderate" like Chuka Umunna, Yvette Cooper, or Dan Jarvis, would have done.
The pundits who said that #GE2017 was a one-horse race have got egg on their face once again. They were wrong about Iraqi WMDs, wrong about Libya, wrong about Trump, and wrong about Corbyn. The question is — why on earth does anyone still listen to them?
Follow @NeilClark66 on Twitter
Support Neil Clark's Anti-Stalker Fund
The views expressed in this article are solely those of the author and do not necessarily reflect the official position of Sputnik.