ST PETERSBURG (Sputnik) – The Russian president said he is aware of the content of the ambassador's talks with former Trump's National Security Advisor Michael Flynn, saying he sees nothing bad in them. He added that didn't know about the meeting before it took place.
"What a catastrophe, our ambassador met with someone. What should an ambassador do? It is his job, he gets paid for this. He should meet up, discuss current affairs, agree on things … This is his job. He is accused of meeting with someone. Have you lost your minds? This is diplomatic service," Putin said at the St. Petersburg International Economic Forum (SPIEF).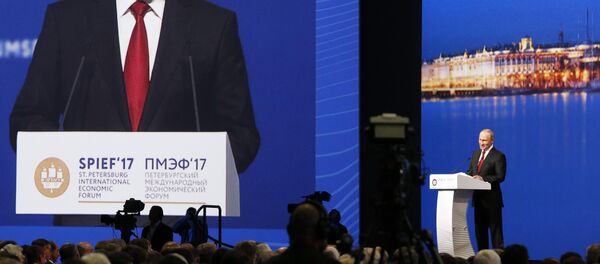 Putin said that it is a normal diplomatic practice, adding that Kislyak discussed bilateral ties with US officials, how to move forward.
"Or you think it's not important and not worth a discussion?" Putin asked.
He called the information campaign against Kislyak "hysteria." "It's really very simple. It is simply some kind of hysteria, you can't stop it," the president said.
"President Trump dismissed his advisor, who was accused of agreeing with someone about something… I did not even know anything about it. With whom they met, what they talked about — they did not talk about anything, just general words about what we need to think about how to build relations between us."
"There were no agreements. They did not even have time to start negotiations," Putin stressed.
US National Security Adviser Michael Flynn announced his decision to resign on February 14 amid a growing controversy surrounding his conversation with Russian Ambassador to the United States Sergei Kislyak before Trump's inauguration. In his resignation letter, Flynn noted he had not given Vice President Mike Pence complete information about his conversations with Kislyak.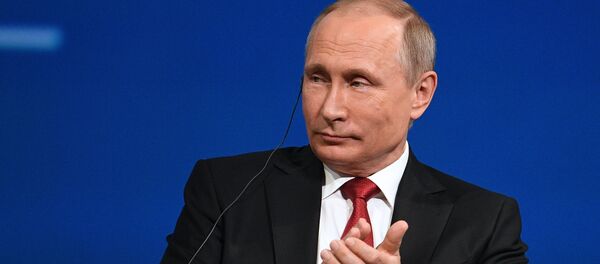 In early March, the CNN broadcaster, citing US intelligence officials, called Kislyak a "top spy" and "recruiter of spies."
On March 2, US Attorney General Jeff Sessions recused himself from the investigation into US President Donald Trump team's ties with Russia after the chief lawyer was accused of meeting with Kislyak. US media reported earlier in the day that both the US Congress and FBI were looking into whether Sessions and Kislyak met at Trump's campaign event in April 2016.
Russia has repeatedly called on the US to stop the "bullying" campaign against Kislyak, adding that he regularily meets US officials as it is his duty.
SPIEF, a major global platform for communication between business representatives and discussion of crucial economic issues, kicked off in Russia's St. Petersburg on Thursday and will continue through Saturday. Sputnik News Agency is the official media partner of the forum.