Japanese Defense Minister Tomomi Inada affirmed that US Navy missions in the South China sea "represent the US resolve to maintain the open, free and peaceful" state of maritime order, while his counterpart in Canberra, Marise Payne, expressed that Australia "strongly support[s]" the US Navy's ability to exercise its rights to carry out such operations.
In light of Beijing's "indisputable militarization" of man-made islands in contested parts of the South China Sea, US Defense Secretary James Mattis told attendees at an international security conference in Singapore that "we cannot and will not accept unilateral, coercive changes to the status quo." The event was sponsored by International Institute of Strategic Studies (IISS).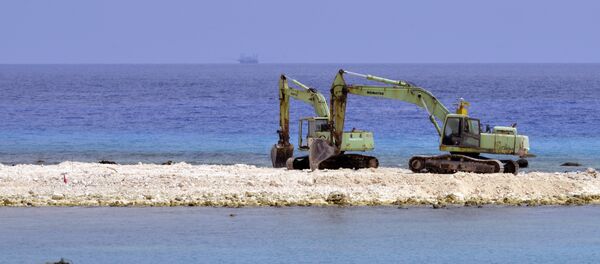 Beijing's leaders determined that Washington's Asia-Pacific strategy "remains unclear" following Mattis' comments, the Global Times reported. Responding to Mattis, a Chinese Foreign Ministry spokesman said, "China has taken note of the irresponsible speeches of relevant US and Japanese officials, and expressed strong dissatisfaction and opposition to them."
US Secretary of State Rex Tillerson told the Senate during his confirmation hearing that China's construction of artificial islands was essentially "an illegal taking of disputed areas without regard for international norms."
But since US President Donald Trump assumed office on January 20, the Pentagon has been authorized to send just one team on a freedom-of-navigation operations (FONOPS) mission in the South China Sea. Analysts began wondering if the lull signaled a wholesale change in Washington's posture toward China after the US Navy filed multiple requests to do FONOPS but was reportedly rejected by the Pentagon.
The USS Dewey sailed within six nautical miles of Mischief Reef in the Spratly Islands on May 26, but reports were only confirmed by unnamed government sources.  Commander Gary Ross at the Office of the Secretary of Defense told Lawfare that "summaries of these operations will be released publicly in the annual FONOPS report, and not sooner," but wouldn't comment about the Dewey on the record. For its part, the Chinese Foreign Ministry said it "expelled the USS Dewey expressing strong dissatisfaction and firm opposition to action of the US."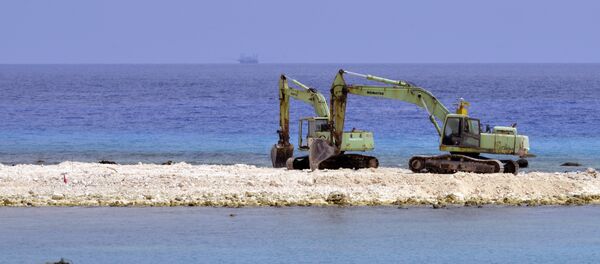 Royal Australian Navy and Air Force teams will also continue to move freely about the South China Sea, "as they have for decades," Payne said, "consistent with the rights of freedom of navigation and freedom of overflight." For instance, the air force flies a Lockheed AP-3C Orion from Australia to a base in Malaysia four to eight times per year, Defense News reported. 
Perhaps to Beijing's chagrin, the Orion can provide land and maritime surveillance capabilities as well participate anti-submarine and anti-ship warfare, according to the Australian government.
China recently deployed its own early-warning-system spy aircraft to monitor the movements of military objects of interest in the South China Sea.
FONOPS have been a part of US Navy practice since 1983, to "further the recognition of the vital national need to protect maritime rights throughout the world." Still, Beijing has argued that President Barack Obama's patrols through the waterway were a threat to sovereignty in the east and southeast Pacific. 
"We are consistently opposed to relevant countries threatening and damaging the sovereignty and security of littoral countries under the flag of freedom of navigation and overflight," Chinese Foreign Ministry spokesman Geng Shuang said in February.
The stakes in South China Sea security are underscored by the estimated $5 trillion worth of global trade that relies on its waters annually.