During a visit to the Komsomolsk-on-Amur aircraft manufacturing plant Russian Deputy Defense Minister Yuri Borisov said that the military is expected to receive two more working prototypes of the PAK FA – the last prototypes to be made before the warplane goes into production.
"The work on PAK FA has already reached its final stages. This year we expect to receive the 10th and 11th models which will be used in the test program, and the first serial procurement of the T-50 fighters is already included into the next state armament program for 2018-2025," Borisov said.
The Sukhoi T-50 (PAK FA) is a fifth-generation fighter and the first Russian aircraft to employ stealth technology. It is a single-seat, twin-engine multirole jet fighter designed for air superiority and attack roles.
© Photo : Russian Defense Ministry /
PAK FA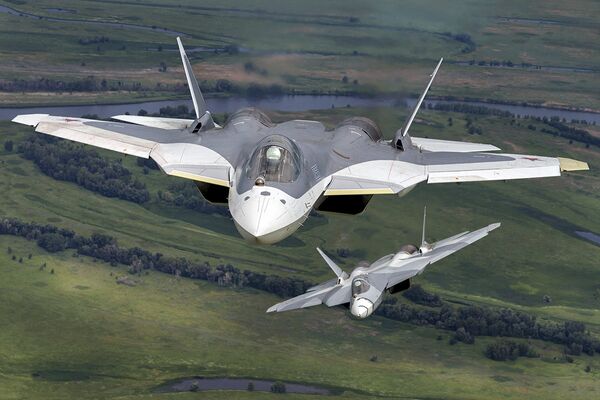 PAK FA
© Photo : Russian Defense Ministry /
The aircraft is expected to feature a new engine, currently designated as Item 30 and undergoing ground rig tests.
Furthermore, the PAK FA will be sporting a set of new advanced weaponry – low- and long-range air-to-air missiles, precision-guided bombs and guided air-to-surface anti-tank missiles currently being developed by JSC Tactical Missiles Corporation.
But the PAK FA is far from the only advanced warplanes to bolster Russia's air force capabilities.
Enter the Sukhoi Su-35S, a 4++ generation multi-role jet fighter.
The Sukhoi Su-35S fighter jet
© Sputnik / Vitaliy Ankov
/
Essentially an upgraded version of the Su-27 supermaneuverable fighter, the Su-35S vastly exceeds its predecessor's capabilities, featuring an enhanced airframe, advanced control system, Irbis passive phased array radar and AL-41F1S engine with plasma ignition system and thrust-vectoring module.
The aircraft already made its debut during the Russian military intervention in Syria where these fighters were flying escort missions for Su-24 and Su-34 ground attack planes.
As Yuri Borisov explained, this deployment also helped detect a number of defects in the aircraft design (for example, Su-35S air intakes used to suck in pebbles and small debris from the runway during takeoff), all of which were already addressed and rectified.
"According to our pilots deployed in Syria, it [Su-35S] is one of the best jets in the world today in terms of flight and technical efficiency," he added.