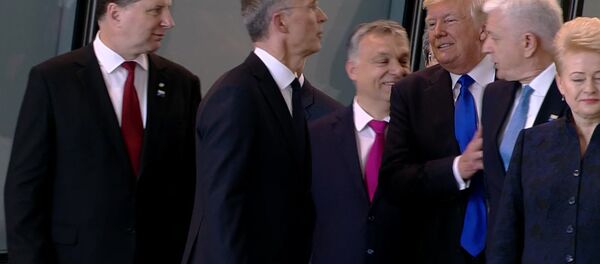 On June 5 the state of Montenegro officially became a NATO member, despite the fact that about half of the country's population was opposed to this move.
This development yielded a number of benefits to the alliance as NATO now received access to the Montenegrin naval installations on the coast of the Adriatic Sea and basically prevented any possibility of a reunification between Montenegro and Serbia in the future.
However, Marko Milacic, a Montenegrin political activist and one of the leaders of the Resistance to Hopelessness movement, told Sputnik that the majority of Montenegrins did not support this move.
"Montenegrin authorities have perpetrated one of the biggest betrayals in modern history; 84 percent of the people wanted this issue (NATO accession) to be resolved via a referendum, but it was never held," he declared.
According to Milacic, while the diplomatic row between Moscow and Podgorica — along with the sanctions imposed by Montenegro against Russia back in 2014 – does look comical, it is a dangerous policy which poses a serious threat to Montenegro itself.
"Sanctions – as the current events are merely the continuation of that policy – had a negative impact first and foremost on Montenegro itself, and not just on the country's economy. State-owned companies like Plantaze (wine producer) suffer serious losses, and I believe that the tourism industry will soon follow suit," Milacic said.
He pointed out that the recent deportation of Montenegrin MP Miodrag Vukovic from Russia, due to him being declared persona non grata, is a direct result of the ant-Russian sanctions imposed by Montenegro.
"When MP Miodrag Vukovic was deported from Russia, Montenegrin media launched a propaganda campaign that portrayed Vukovic as an innocent victim and blamed Russia for oppressing representatives of a small country. But when you take a closer look at it, this story is simply improbable. In 2014 Montenegro imposed sanctions against Russia and together with the EU formed lists of Russian citizens who were denied entry into the country; and now they act surprised when Vukovic got deported. This 'black lists' affair helped the Montenegrin regime to portray itself as a victim. And even though we're talking about my compatriots here, I believe that Russia should've implemented these measures much earlier… because the anti-Russian hysteria has been going on for years," he said.
Milacic also remarked that while for a Russian investor "to try and invest in Montenegro now would border on masochism," opinion polls show that over 60 percent of Montenegrin people consider Russia a "brotherly and friendly state" so it is highly unlikely that Russian tourists visiting the country might experience any effects of this anti-Russian sentiment promoted by the government.
"The ongoing anti-Russian hysteria is one thing, but the people of Montenegro have a friendly disposition towards Russians, almost like Serbians… This hysteria is being orchestrated by the government, and I'm glad that Russia is aware of this fact and realizes the difference between Montenegrin government and Montenegrin people," he said.
"A lot of things will change during this occupation. The Atlantist empire will implement its system of control in Montenegro, so attempting to change anything in the future will be much more difficult. But the progressive part of the Montenegrin opposition will continue its struggle – not against NATO, but for the democratization of our country," Milacic added.