In an interview with Sputnik Turkey, the analyst commented on the results of a recent survey, according to which many residents of NATO countries oppose the increase in defense spending of up to 2 percent of GDP.
"The idea of an increase in defense spending can't be implemented into practice. The US spends 3.61 percent of the budget on defense, which is $664 billion, followed by Britain with $60 billion, France with $44 billion and Germany with $41 billion. The US expects other countries to increase their contribution to defense as well, and therefore strengthens its pressure on them, but this strategy can't be realized from an economic point of view," the expert told Sputnik Turkey.
According to Sahinalp, the hard approach of US President Donald Trump can be explained by his attempt to attract support inside the country.
"One of the reasons for increasing US pressure on NATO countries is the US' desire to strengthen its position in relations with China, while Trump's anti-Russian rhetoric is supposed to have an effect on domestic politics. Trump seeks to use this trump card as an internal political tool. This is one of the reasons why he chose for himself the role of a "big brother" who pressures NATO," he said.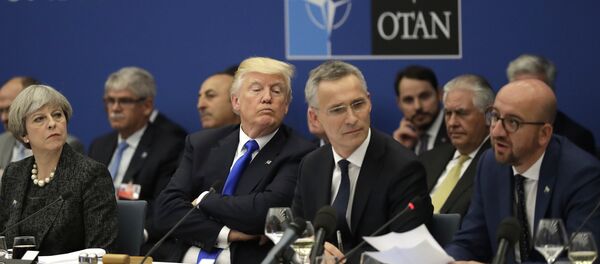 On May 25,
US President Donald Trump said at a NATO summit in Brussels
that the other members of the alliance should pay their "fair share" and pointed out that only five of the member states were allocating 2 percent of their GDP to defense, which is the target set at the 2014 summit in Wales.
According to a recent survey conducted by the French Institute of Public Opinion for Sputnik, 53 percent of Italians, 47 percent of Germans and 35 percent of French do not want the defense expenditures to grow.
At the same time, 44 percent of the French, 36 percent of Germans and 31 percent of Italians are in favor of the increase.
In the United Kingdom, which unlike the other three countries allocates more than 2 percent of its GDP to defense, 54 percent of respondents supported maintaining military spending at the same level, while 25 percent were against it.