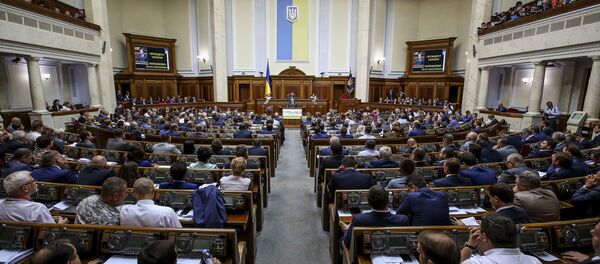 "Moscow traditionally treats the process of NATO expansion toward our borders with distrust and concern. We believe that this threatens our security and the balance of forces in the Eurasian region. Of course, the Russian side is taking all measures necessary to rebalance the situation and protect its own interests and security," Peskov told reporters.
Kiev prioritizes NATO membership 
On June 8, the Ukrainian parliament added to Russia's concerns  about NATO closing in on its western borders by adopting legislation, which declares NATO membership as the country's top foreign policy priority.
The bill, which needs to be signed into law by President Petro Poroshenko, determines that one of the basic principles of Ukraine's foreign policy is to deepen cooperation with NATO, integrate the country into the "European political, economic and legal space" as a prerequisite for the country's membership of the European Union.
In late 2014, Ukrainian MPs voted to cancel the country's non-bloc status and adopted a new military doctrine, which put the former Soviet republic back on course towards NATO membership. Kiev has until 2020 to ensure its armed forces' full compatibility with NATO's military standards.
NATO's then Secretary General Anders Fogh Rasmussen had earlier warned that Ukraine would need more time to meet the criteria required for membership in the Western defense alliance. Experts believe that it will take Kiev more than 20 years to meet the required standards.
Moreover, NATO does not take in countries with ongoing internal conflicts or unresolved territorial disputes.
The Opposition Bloc votes against blocs
Meanwhile, the co-chairman of the Opposition Bloc parliamentary faction, Oleksandr Vilkul, spoke out against Ukraine's membership of any military-political alliances and advocated the resumption of the country's non-bloc status.
"Constitutionally enshrined eternal neutrality is the only viable model for Ukraine, which stands at the crossroads of worlds and civilizations," Vilkul said.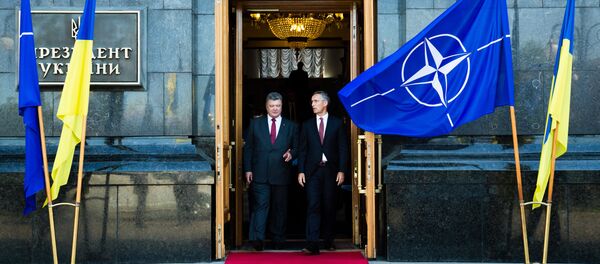 "This is what Austria and Switzerland did. Any other way will forever doom us to confrontation and the role of a buffer zone," he added.
Oleksandr Vilkul said that the Opposition Bloc would vote against any bills aimed at making Ukraine a part of any military-political alliances.
Yuri Boiko, another leading member of the Opposition Bloc, said that instead of voting on ideologically-charged issues, the Verkhovna Rada should concentrate on enacting laws that would stabilize the economic situation in the country and improve the living standards of the Ukrainian people.
"We are sure that NATO will not accept us, they won't even consider our application because, according to their charter, they do not take in countries with ongoing military conflicts. Today's vote was just an attempt to take the people's attention away from things that really matter," Boiko complained. 

Conflicts must go on
In an interview with Sputnik, prominent Ukrainian political Volodymyr Oleinik said that the Thursday's vote was just a ploy to start a discussion and make sure that people stop asking hard questions about why life is so hard and why the people in high places failed to fulfill the promises they once made.
"These people need a situation where conflicts, big and small, go on forever. That's why they are proposing things that cannot be realized," Oleinik told Sputnik. He believes that NATO has no intention to accept Ukraine.
"Ukraine will not find itself either in NATO or the EU any time soon. An association – yes, but membership – no," Oleinik emphasized.
Loss of sovereignty
Viktor Medvedchuk, the leader of the Ukrainian Choice – Right of the People movement, and Kiev's representative in the humanitarian subgroup on the situation in Donbass, is certain that Thursday's vote will undermine the country's attempts to restore its territorial integrity and would result in a further escalation of the conflict in Donbass.
Medvedchuk said that the bill adopted on Thursday flies in the face of the Declaration of State Sovereignty of Ukraine, which enshrines the country's neutral status.
"The course on joining NATO is absolutely unacceptable for the people of Donbass. Euro-Atlantic integration is not the 'civilizational choice of Ukraine' they are trying to make us believe, but a road to the ultimate loss of our sovereignty," Yuri Medvedchuk wrote.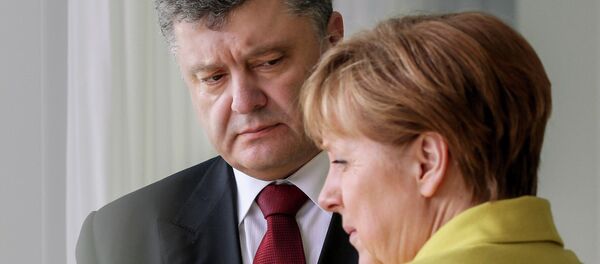 Kiev has intensified its efforts to join NATO following the shift of power in 2014 and has already canceled its non-aligned status. Ukrainian President Petro Poroshenko said a referendum on NATO membership would be held by 2020.
However, NATO officials have repeatedly stressed that the country needs to implement a wide range of reforms before pursuing bloc membership.
Since the beginning of Ukrainian crisis, the organization has also been boosting its military presence in Eastern Europe. During the July 2016 NATO summit in Warsaw, allies agreed to deploy four multinational battalions to Estonia, Latvia, Lithuania and Poland.
Russia has warned that amassing troops and military equipment on its borders is a provocation, violates past NATO pledges, and can lead to regional and global destabilization.